Stanley Black & Decker to expand, add 400 jobs in White Marsh
Baltimore Business Journal | Melody Simmons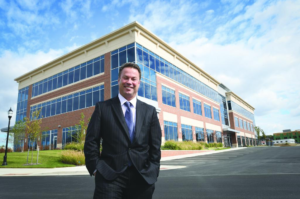 Stanley Black & Decker is expanding its presence in Maryland by adding 400 jobs to the new Greenleigh at Crossroads complex in White Marsh.
The international toolmaker said Tuesday it is planning to invest $8.5 million in a 92,000-square-foot building recently completed at Greenleigh at Crossroads, a $750 million, 1,000-acre residential, commercial and retail development off Route 43 and Interstate 95 developed by St. John Properties.
When built out, Greenleigh at Crossroads will hold 2.5 million square feet of new commercial space including office, warehouse, industrial and retail.
The expansion to Greenleigh will bring Connecticut-based Stanley Black & Decker's workforce in the state to 2,700. That figure includes 1,600 people at its 31-acre Global Tool and Storage division headquarters on East Joppa Road in Towson. That space totals 565,000 square feet.
"As Stanley Black & Decker continues to grow, we need to continually infuse our business with innovation-minded people who are excited about building the innovations that will change the world tomorrow," said Jeff Ansell, president of global tools and storage for Stanley Black & Decker, in a statement.
"We continue to find those people right here in Maryland and we are proud to expand our operations in a place that we've called home for nearly 110 years. The State of Maryland and the Baltimore County have been strong partners throughout this expansion process, and are working hard to help our innovative, high-performing company grow in Maryland."
The former Towson-based Black & Decker Corp. was purchased by Stanley Works in 2010 for $4.5 billion.
The Baltimore County Council is set to consider a $200,000 conditional loan to help fund Stanley Black & Decker's expansion costs. The conditional loan is scheduled to be discussed Feb. 13 at a council work session. The state is also pledging a $2 million conditional loan through the Maryland Economic Development Assistance Authority and Fund.
Gov. Larry Hogan said the addition of 400 new jobs to the state was a vote of confidence.
"World-class companies like Stanley Black & Decker continuing to invest in our state is proof that our actions to grow our economy and ensure that Maryland is open for business are working," Hogan said, in a statement.
Stanley Black & Decker's expansion into White Marsh will include electrical and electromechanical engineering, digital and brand marketing, industrial design, finance and human resources offices, the company said. The jobs pay an average annual salary of $60,000.
"Stanley Black & Decker could have brought these jobs to any place in the U.S.," said County Executive Kevin Kamenetz, in a statement Tuesday. "This major expansion by a global industrial leader shows their confidence in Baltimore County's innovation economy and our highly skilled workers."
Richard Williamson, senior vice president of leasing and marketing for St. John Properties, said the expansion would help spur more growth at Greenleigh at Crossroads.
"The ripples of this lease will generate interest in similar companies looking for a best-in-class business community in Baltimore County, support our restaurant and retail tenants and spur new speculative building construction," said Williamson.
Matt Lenihan negotiated the deal for St. John Properties and Doug Brinkley of Cushman & Wakefield represented Stanley Black & Decker.
Last month, Stanley Black & Decker announced another expansion, on a smaller scale.
The company recently signed a lease to lease 6,600 square feet — the entire fifth floor — at 210 Allegheny Ave. for 25 employees. They are expected to move in by March. Stanley Black & Decker also opened a makerspace on its Towson campus last year for its employees.
Stanley Black & Decker (NYSE: SWK) reported revenue of $12.7 billion and net income of $1.23 billion last year.
https://www.bizjournals.com/baltimore/news/2018/02/06/stanley-black-decker-to-add-400-jobs-in-white.html