St. John Properties to build business parks in Springville, Taylorsville
The Daily Herald  |  Connor Richards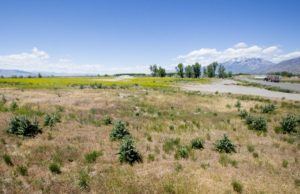 An East Coast real estate developer announced on Thursday that it would begin construction this summer on two business parks in Utah, including one in Utah County.
St. John Properties, which has a regional office in Pleasant Grove and is headquartered in Baltimore, Maryland, will develop a total of 525,000 square feet of office space between two business parks in Springville and Taylorsville.
The Spring Pointe Exchange project in Springville will be built on a 17-acre stretch of land located just west of Interstate 15 and will consist of six buildings with enough space for 750 employees total, according to a news release.
"Tenant sizes from 1,800 square feet up to 42,600 square feet of space offer businesses straightforward, economical and high-utility space in a covenant-protect, well-maintained atmosphere," a description of the Spring Pointe Exchange project said. The buildings will feature 30-foot wide spaces and 18-foot high ceilings to offer "maximum flexibility."
The Beltway West project in Taylorsville, which will be located 9 miles south of the Salt Lake City International Airport, will consist of four single-story office buildings and one six-story building.
The two projects are expected to total $120 million in new capital, according to Daniel Thomas, regional partner for St. John Properties Utah.
During a press conference on Thursday, Thomas said the two projects, combined with the Valley Grove project in Pleasant Grove that began in 2017, bring St. John Properties' total investment in Utah-based projects to approximately $500 million.
Thomas said he wanted to "express some sensitivity" for the challenges businesses are facing during the COVID-19 pandemic and provide leadership during a time of economic uncertainty.
"It's not easy out there right now for a lot of them," Thomas said about St. John Properties clients. "And we're here to talk about investment and spending and growth, and I just don't want to diminish the challenges that our own clients are going through. And so what we're hoping is that by talking about this investment that we're providing some hope and some leadership looking through the current economic and health challenges."
Gov. Gary Herbert spoke at the press conference about Utah's reputation for being one of the most business-friendly states in the country, adding that the state has "tried to live up to that reputation" by supporting free market principles and encouraging business development.
"We are first and foremost free market capitalists in Utah, and we unfortunately see some of that being forgotten around the country," the governor said. "But not here in Utah."
Herbert stressed the importance of Utahns having confidence in how the state will emerge from the pandemic, whether that's confidence that the restaurant they eat at is maintaining health and safety standards or "confidence in the private sector" to come up with innovative solutions to sustain the economy.
"This is an unprecedented and kind of an uncertain time," he said. "If people that have capital don't have confidence in where they're going to invest, most things don't happen."
According to Thomas, the business parks for both the Springville and Taylorsville projects will be Leadership in Energy and Environmental Design (LEED) certified, which is a rating system used by the United States Green Building Council to determine how environmentally friendly buildings are.
The Pleasant Grove-Lindon Chamber of Commerce named St. John Properties the "Business of the Year" in 2018 for the Valley Grove development project.
Thomas said the Valley Grove project has grown to a total of 85 acres since it was first built in 2017 and that the real estate developer would continue expanding the project.
More information about the business park development project in Springville can be found at http://sjpi.com/springpointe.