St. John Properties plans metro-wide building boom in 2021
Baltimore Business Journal  | Melody Simmons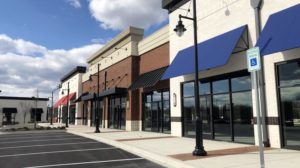 Nearly 1.5 million square feet of new Class A office, flex and light industrial space is in the works this year by St. John Properties.
The growth by the Woodlawn-based developer is part of a move to expand in the Baltimore-metro area and south toward Washington, D.C., the company said on Monday. St. John is on pace to complete the new Class A commercial office, flex and research and development, self-storage and warehouse space by the end of the year.
Overall, the push will add a total of 34 buildings to St. John's portfolio that already has more than 21 million square feet in Maryland and seven other states, including Utah, Pennsylvania, Louisiana and Colorado.
Most of the new development will be located in Anne Arundel County, but other projects are underway in Baltimore, Carroll, Frederick, Harford, Howard, Prince George's and St. Mary's counties.
The building boom in Baltimore, Carroll and Howard counties will total six developments that will total about 300,000 square feet of space, including a new four-story commercial office structure at 8130 Maple Lawn Blvd. in Fulton. Another new retail project was just completed by St. John that totals 13,000 square feet of space. The developer is also adding to its presence at "The Gate at APG" in Harford County with 95,000 square feet in two flex buildings just inside the main gate of Aberdeen Proving Ground.
All are being built as speculative buildings, which is a model the five-decade-old company has used for years alongside an aggressive leasing strategy.
A total of 17 of the new developments stretch about 750,000 square feet and have already been completed. Another 17 buildings will total more than 650,000 square feet and are still in the works, said Sean Doordan, St. John's senior vice president of leasing and acquisitions.
"The entire St. John Properties team has persevered through challenging conditions in 2020, and we remain on track to deliver a total construction volume that is consistent with prior years in response," Doordan said, in a statement. "Essential businesses and those in the laboratory, assembly and distribution sectors continue to rely on access to flexible commercial space to meet their business demands."