St. John Properties may have interest in buying White Marsh outlet site
Melody Simmons | Baltimore Business Journal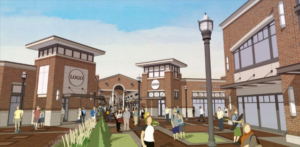 St. John Properties may be interested in buying 45 acres of prime real estate in White Marsh designated for a 100-store outlet mall should plans for the project fall through, an executive with the development company said Wednesday.
The Baltimore Sun reported on Wednesday that New York-based Lightstone Group, parent company of Paragon Outlet Partners LLC, was considering selling the White Marsh property after it had received "several unsolicited inquiries."
Rick Williamson, a senior vice president at St. John could likely bid for the property if the project is scrapped. The area is located adjacent to St. John's $750 million Greenleigh at Crossroads development that broke ground last year and is compared to Maple Lawn in Howard County.
Should Paragon unload it now, Williamson said its location just off of Route 43 and Interstate 95 could raise possibilities to complement that mixed-use entire project.
"It's an excellent location," Williamson said, of the potential outlet mall site. "St. John Properties may have an interest in it."
The Greenleigh project will encompass 200 acres and include 400 single family residential units, 1,500 apartments and condominiums,128,000 square feet of retail space and 428,000 square feet of office space.
Recently, questions about the future of the outlet mall have shown its development is uncertain.
R. Kelvin Antill, a partner at Paragon who had overseen the White Marsh outlet project for the past year, said in a brief interview with the BBJ last week that he no longer worked for the company. He declined to comment further on the company's future or the plans for the White Marsh outlet mall that had been in the works for about two years.
Representatives from Lightstone Group and Paragon could not be reached on Wednesday.
Baltimore County spokeswoman Fronda Cohen said Wednesday that county officials had not received any updates on the White Marsh outlet mall from Paragon Outlet Partners LLC.
In January 2015, Baltimore-based Paragon purchased the property for $18.6 million from Corporate Office Properties Trust (NYSE: COPT)
Plans for the White Marsh outlet mall, first introduced in 2014, had stalled for about a year because of opposition by community residents and General Growth Properties, owner of the White Marsh Mall. Paragon signed an agreement in May with General Growth officials ending their dispute.
Community groups, though, were successful in getting a referendum on the General Election ballot based on a zoning change allowing the outlet mall at that particular site.
In November, county voters approved that referendum upholding a zoning law that set up the outlet mall in White Marsh.
http://www.bizjournals.com/baltimore/news/2017/01/18/st-john-properties-may-have-interest-in-buying.html