St. John Properties enters the self-storage craze
Baltimore Business Journal  |   Melody Simmons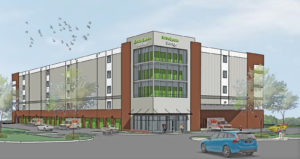 St. John Properties has started work on the first of three 135,000-square-foot self-storage developments across the Baltimore area.
The big-box storage complex is expected to open at Greenleigh at Crossroads as a residential and office-related amenity in the fall. The facility will be located just off Route 43 at the 1,000-acre development in Middle River with 959 climate-controlled units ranging in size from a 5-foot square to 10-foot by 30-foot.
St. John is also planning self-storage facilities at the 44-acre BWI Technology Park II near Baltimore/Washington International Thurgood Marshall Airport and the Waugh Chapel Business Park in Gambrills.
The facilities will be operated by Salt Lake City-based Extra Space Storage, which manages more than 900,000 units in 40 states.
A spokesman for St. John Properties, the Woodlawn-based development firm, said businesses have requested a need for extra space to store documents among other items from the office spaces they lease. The number of self-storage units across the U.S. has reached 52,000, according to SpareFoot Storage Beat, an industry trade publication. Annual revenue nationally from self-storage rentals is estimated at $38 billion.
"With our land availability in several mixed-use business communities, we believe this is the opportune time to enter the self-storage product category and add another valuable amenity for our clients and the surrounding neighborhoods," Jay Riley, a spokesman for St. John, said in a statement.