St. John Properties converts office space to restaurants
The Daily Record  |  Adam Bednar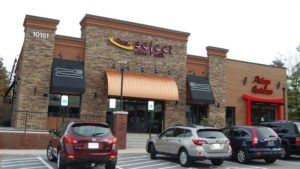 Office demand near Interstate 83 in Baltimore County remains healthy, but appetite for amenities convinced St. John Properties to convert office space at Crestridge Center to service retail.
The development company started transforming a portion of the the single-story office property at 10151-10155 York Road in 2016. The company spent $416,000 — $92 a square foot — retrofitting the property to provide nearby tenants more shops and eateries at the mixed-use development.
"We've done four (office-to-retail conversions in Maryland), and I wouldn't say by any stretch to the imagination that we've tapped out," said Richard Williamson, senior vice president, leasing and marketing.
Monday's slated opening of Asian Garden in the York Road building, joining a Pat's Select Pizza shop that started serving customers in October, marked the completion of that transformation.
Restaurateur Stavros Kalaitzoglou long wanted to expand his business to Cockeysville because of the community's attractive customer base.
When Kalaitzoglou found the property on York Road with terrific street visibility, combined with impressive demographics in terms of household income and foot traffic from office workers, he knew he found his spot.
"We were always looking (along York Road) for years … Once we found it we had to have it," Kalaitzoglou said.
Describing the building as a "plain vanilla box" when he signed the lease Kalaitzoglou, who owns and operates two Asian Garden locations, and 15 Pat's Select Pizza shops, completed a full overhaul of the interior.
That work ranged from making the interior match his other locations' branding to plumbing improvements. Build-out required "a big investment," he said, declining to disclose how much was spent on improvements.
"It was from scratch," Kalaitzoglou said.
The Interstate 83 Corridor, which includes Cockeysville, had  the lowest percentage of vacancy in the Northern Metro area in the last quarter, according to a recent report from MacKenzie Commercial Real Estate.
The 9 percent direct vacancy represented a decrease from a second-quarter direct vacancy in the area of 9.8 percent. That third-quarter figure was also down from 9.3 percent direct vacancy during the same time in 2017.
Retail in the York Road Corridor trailed only the White Marsh/Perry Hall and Baltimore West submarkets in the metro region in terms of vacancy. The submarket posted a 3 percent direct vacancy in the third quarter. That's down from 3.8 percent in the previous quarter, and 3.3 percent year over year, according to the same report.
Despite the well-publicized struggles of many retailers, particularly stores competing with e-commerce, Williamson disputed the idea the entire sector faces challenges. Service-based retailers, particularly those located with access to a mix of business and residential customers, he said, perform well.
There are crucial ingredients to retail success, such as visibility and traffic count, Williamson said. St. John Properties only repositions office assets as retail when it's clear they will succeed, he added.
"The basics of retail still matter," he said.
When considering potential retail tenants, St. John Properties' major consideration is whether stores will enhance tenant's experience at a particular business park, Williamson said. But so far changes they've made, and the retailers that have been added, have helped attract and retain office tenants.
"Our retail is ancillary. We want it to support the business community we have," he said.