St. John Properties Broker Event at I-97 Business Park Attracts 300 Professionals
Baltimore Citybizlist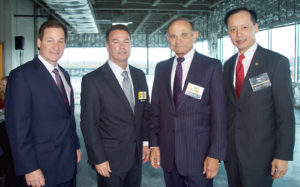 St. John Properties executives Larry Maykrantz and Richard Williamson; Edward St. John, Founder and Chairman of St. John Properties and Benjamin Wu, Deputy Secretary for the Maryland Department of Commerce.
More than 300 commercial real estate brokerage professionals and local business leaders attended the recent broker event at 231 Najoles Road at the I-97 Business Park in Anne Arundel County. The five-story, 126,500 square foot Class "A" office building was delivered this past summer.
I-97 Business Park is a 67-acre business community located on Benfield Boulevard, which presently consists of eleven buildings comprising approximately 500,000 square feet of space. The project is within close proximity to Interstates 97, 695, and 95 as well as MD Routes 295 and 32, providing rapid connections to Annapolis, Columbia, Baltimore and Baltimore-Washington International Airport. Free parking is available throughout the business park and the area is serviced by numerous business amenities including fast-casual and sit-down restaurants, retail centers and hotels.
Ben Wu of the Maryland Department of Commerce was the featured speaker at the event and informed the audience that 135,000 new jobs have been created in the State since Governor Larry Hogan took office. "The state's unemployment rate stands at 3.8%, which is the lowest it has been in decades and places it significantly below the national average of 4.4%," Wu said. "Based on various economic performance indicators, the State now ranks 7th nationally. To quote our new economic development slogan, Maryland is Open for Business."

Edward St. John; Scott Winbrow, MacKenzie Commercial Real Estate Services; Walter Patton, NAI KLNB

Tim Hearn, JLL; Gail Chrzan, Blue & Obrecht Realty

Jackie Pfeiler, St. John Properties, Louis Topper, M&T Bank; Lori Rice, St. John Properties

Nancy Ferrall, NorthMarq Capital; Larry Maykrantz, St. John Properties; Laura Westervelt, Cushman & Wakefield

Sharon Akers, St. John Properties; Joe Nolan, NAI KLNB; Stephanie Caronna, St. John Properties
http://baltimore.citybizlist.com/article/452171/st-john-properties-broker-event-at-i-97-business-park-attracts-300-professionals