St. John Properties aims to double its portfolio to 40M square feet within 15 years
Baltimore Business Journal | Melody Simmons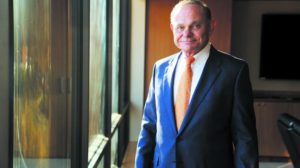 St. John Properties is eyeing an ambitious plan to double its current portfolio of 21 million square feet in commercial, residential and office space across the U.S. by 2036.
The growth over a 15-year period would smash the pace that the Woodlawn-based company has recorded so far as it has developed major local projects like Greenleigh, Melford Town Center and Maple Lawn — as well as amassed thousands of square feet of retail, office and flex space scattered across the suburban landscape around Baltimore.
The company this month hit its golden anniversary and currently sports a $4 billion portfolio with more than 2,500 tenants. It famously gave its employees a total of $10 million in bonus checks in a surprise Oprah-like holiday giveaway in 2019.
Edward St. John, founder and chairman, said the 50-year benchmark has fueled his company's goals for the next decade-plus. It will move to open regional offices across the U.S. and train a new class of executives under a four-year leadership program. Besides Maryland, St. John has offices in Colorado, Louisiana, Nevada, Pennsylvania, Virginia, Utah and Wisconsin.
The developer will also continue developing LEED-certified buildings and projects using high-tech, upgraded indoor air systems post-Covid, St. John said this week. So far, 2.4 million square feet of building space have been outfitted with St. John's custom ultraviolet indoor air purification systems in 23 multi-story buildings.
St. John said he started with a 10,000-square-foot portfolio in his family's real estate business just after graduating from the University of Maryland with an electrical engineering degree. Today, the company builds mostly spec projects.
He recently detailed some of the highs and lows along the way in an interview with the Baltimore Business Journal.
How do you see the coming decade for St. John Properties now that the company has hit the 50 year mark?
We will continue constructing speculative commercial real estate space that meets the needs of our current and future clients. This includes listening to our clients to better understand their needs and remaining a leader in every aspect of the real estate industry including sustainability, energy conservation and customer service. We will accomplish these goals, and more, by leveraging the talents of our team, which brought us to this point and utilizing an extremely disciplined financial model.
What are the plans from here on out?
Our next great milestone is to surpass 40 million square feet of commercial real estate space developed. If we continue with the same growth trajectory of the recent past and continue to add emerging new markets along the way through our partner-in-training program, I predict we will accomplish this in approximately 15 years. This will take a concentrated and all-out effort from our team of professionals.
Looking back over the past 50 years, what was the high point?
Without question, it was being named the NAIOP Developer of the Year in 2018, an award that is considered the holy grail in the commercial real estate industry. I am still amazed that a little company like ours achieved this honor and we were only the second Maryland firm ever to be recognized.
The lowest point?
It would have to be 1991 when the bottom fell out of the real estate industry and we had approximately $10 million in the bank, and were poised to acquire assets for pennies on the dollar. What I didn't understand at the time, was that banks had lent a lot of money to the people who were generating the bubble. When companies couldn't pay back their loans, the banks were on the verge of bankruptcy.
We were one of the few firms in the commercial real estate development business in the Greater Baltimore area not defaulting on loans. One of our banking partners asked for a last-minute meeting and [St. John Properties President] Larry Maykrantz and I thought they were coming in to congratulate us, take us to lunch to celebrate an accomplishment or give us an award of some kind. Instead, they walked into our offices and said, "You owe us $90 million and we want our money." I stood there stunned. Here was the same bank that six months ago was getting in line to ask us what additional business we could give them.
For the next three years, we had to pay off $90 million. Instead of having that $10 million in the bank and thinking we were really rich, they asked for those funds as the down payment on the loan and it disappeared within one week. Larry took the lead from the bookkeeping end and I held together the rest of the company. He and I spent many sleepless nights working to keep our company operating, and we came dangerously close to losing everything. We persevered through the financial crisis and emerged as a tighter and significantly stronger group.