New Courtyard by Marriott Coming to St. John Properties' Melford Development in Prince George's County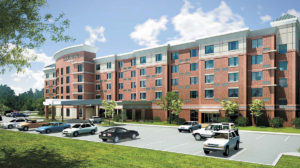 CoStar Group | Christian Powell
Hospitality Development Co. to Break Ground Friday on 144-Room Hotel in Bowie Mixed-Use Project
BOWIE, MD (April 24, 2017) — Hospitality Development Company Group will break ground Friday, April 28th on the first of three new hotels planned for St. John Properties' 466-acre Melford mixed-use community in Prince George's County.
Located at 16800 Science Dr., the 144-room Courtyard by Marriott will sport several conference and meeting rooms, a first-floor restaurant, a business center, a fitness center and an outdoor pool. The five-story hotel has also been designed to achieve LEED certification.
Hospitality Development Co. expects to complete construction on the Courtyard by Marriott sometime next year. The locally-based hotel developer, led by Dr. Ernest Murphy, also has the rights to develop two additional hotels in the Melford development – a 125-room Residence Inn and a 100-suite SpringHill Suites. A groundbreaking date for these two developments has not yet been scheduled.
St. John Properties' Melford campus is situated at the intersection of U.S. Route 50 and MD Route 3/301 in the northeast Washington, D.C. suburb of Bowie, MD. The park is currently home to nearly one million square feet of office and flex/R&D space with plans in place to add up to 1,800 apartments on site. The project can also accommodate an additional 550,000 square feet of office space, 500,000 square feet of flex/R&D space and 86,000 square feet of retail space.
"This new hotel is an important addition to the mixed-use environment within Melford as the amenity will be a destination for area businesspeople, future residents and visitors to the community, and will serves as a significant economic driver," noted Richard Williamson, senior vice president of marketing and leasing for St. John Properties. "The inclusion of conference and meeting facilities, as well as an on-site restaurant, complements the range of services available and furthers Melford's appeal as a self-contained community."
Herman/Stewart Construction has been selected to serve as general contractor for the hotel development.
http://www.costar.com/News/Article/New-Courtyard-by-Marriott-Coming-to-St-John-Properties-Melford-Development-in-Prince-Georges-County