NAIOP Maryland Developing Leaders Group sample R. House Ambience
citybizlist | Baltimore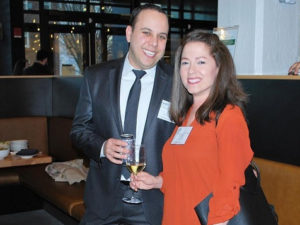 Baltimore, MD (March 9, 2017) — NAIOP Maryland's Developing Leaders group, consisting of commercial real estate professionals thirty-five years of age and younger, gathered for their first networking session of the year at the newly-opened R. House, in the Remington section of Baltimore City. More than thirty people gathered to take a tour of the $13 million transformation of the former Anderson Body Shop into an eclectic mix of restaurants, bars, recreational amenities and event space.
Jon Constable, Partner and Development Director for Seawall Development, the company behind the reimagining and redevelopment project, explained the inspiration behind both the project and the company to the Developing Leaders audience. "Our small, locally-based company likes to refer to ourselves as social entrepreneurs," he explained, "which can be seen in our work to create projects such Miller's Court and Remington Row. Miller's Court, in particular, was designed to serve the interests of local teachers and public servants, with a strong additional focus on helping non-profit organizations as well.
Constable also provided a glimpse of what is coming in the future to R. House. "Johns Hopkins University is currently performing tenant fit-out on its new Fast Forward program, which is an incubator for wet labs. When they open this summer, it will join upstairs tenants that including a yoga studio and a software company," he added.
"R. House literally blew us away," said Spencer Perry, Business Services Officer – Commercial Real Estate for BB&T and Chair of NAIOP Maryland Developing Leaders. "Most of us had not visited Remington for quite some time, and it was amazing to see the transformation of Remington Row right next door and the renovated rowhomes across the street.The space had us imagining the possibilities for future events."
http://baltimore.citybizlist.com/article/407091/naiop-maryland-developing-leaders-group-sample-r-house-ambience