Mission BBQ to open Frederick location in early 2021
Frederick News Post  |  Erika Riley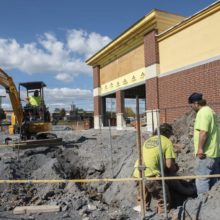 Those who have tried the Maryland-based Mission BBQ in nearby places such as Ellicott City, Rockville and Columbia will be happy to hear that the barbecue chain plans to open a Frederick location by early 2021.
The restaurant will be located at 5102 Pegasus Court off of Md. 85. The building is currently being developed by St. John's Properties, who also developed the surrounding Westview Business Park.
This will be Mission BBQ's 93rd location in just nine years.
"Finally we were able to find the right opportunity with St. John's Properties," co-founder Bill Kraus said. "And I think that's just kind of meant to be, with them being a Maryland-based developer it's the perfect fit for our brand and we can't wait to get the ball rolling."
Mission BBQ opened its first location in Glen Burnie on Sept. 11, 2011, the 10-year anniversary of the attacks on the World Trade Center and the Pentagon. Veterans are at the heart of everything Mission BBQ does, from its Stars and Stripes salutes to its American-themed decor.
Kraus said the company has been looking at a Frederick location since that first location took off. Since its opening, Kraus said he has been getting questions about when a Frederick location would become a reality.
"And we're excited to finally be able to answer that question and hopefully cut the ribbon sometime early next year," Kraus said, "and be able to serve the wonderful community of Frederick and the surrounding area as well."
Mission BBQ will be taking half of the 8,500-square-foot building, said Matt Holbrook, St. John's Regional Partner for Virginia and Central Maryland.
"Mission, I think will be a destination. It's a first-class operator and so it's gonna attract customers in the area," Holbrook said. "It's also gonna attract tenants who want to be adjacent to such a thriving business."
Many restaurants have been struggling during the coronavirus pandemic as they've been forced to adapt to take-out and delivery and then to outdoor dining. Holbrook said there is still high demand from biotech businesses and other industries that have not been as affected by the coronavirus.
"Here's a restaurant that is looking forward and have been trying to get into Frederick for a while and they're opening up in spite of everything that's going on right now," Holbrook said.
Kraus said he and his business partner Steve Newton found the property through St. John's early in 2020, and decided to take the leap a few months after the COVID-19 pandemic began.
"We're so thankful for the continued hard work of our teammates and the incredible loyal support that we've seen from our customers through this, that helped us to fight our way through," Kraus said. "And we all know that we're probably not done, but at the same time too, we're excited about what lies ahead and the opportunity to serve yet another community, especially right here in Maryland."