Maryland Half Marathon makes its way back to Maple Lawn May 13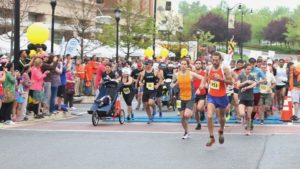 Howard County Times | Andrew Michaels
Maryland Half Marathon makes its way back to Maple Lawn May 13
MAPLE LAWN, MD (May 2, 2017) — Ellicott City resident Denise Choiniere said she thought about the impact cancer has on people's lives during her 13-mile run in 2011 for the University of Maryland's Marlene and Stewart Greenebaum Comprehensive Cancer Center's Maryland Half Marathon and 5K. That same year, cancer entered her life when she was diagnosed with non-aggressive Non-Hodgkin's lymphoma.
While her battle continues today, Choiniere, who is now the nursing director at the center, said her support for cancer awareness remains strong. During this year's ninth annual Maryland Half Marathon and 5K in Maple Lawn on May 13, she will fire the starting pistol and cheer on more than 2,000 participants.
The annual event, which has raised $2.5 million for the cancer center since its inception in 2009, will feature a half marathon and 5K beginning at 8 a.m., and a half marathon and 5K Kids Fun Run beginning at 8:45 a.m. Participants make their return to Maple Lawn, as runners travel around the 600-acre, mixed-use business community.
Michael Greenebaum, of Greenebaum Enterprises, and Jon Sevel, of CoastTec, co-founded the race after fusing their passion of running with raising cancer awareness. Greenebaum Enterprises is the master developer of the Maple Lawn community, in partnership with St. John Properties.
"I haven't been a part of the race for the last few years" because of cancer treatments, Choiniere said. " I'm excited to be back, cheer the runners on and give thanks to the people who come out and support the cancer center. Every year, there's a patient that starts the race. I'm absolutely honored to be a part of that."
Following her diagnosis, Choiniere spent the next two years waiting to see if the cancer progressed, with her lymph nodes beginning to swell in 2013. The 48-year-old said she began treatment in 2015 when the cancer became "aggressive," and is now preparing for a stem cell transplant – donated by her brother, Stephen – in June.
"I was hoping that I would be running this race this year, but unfortunately I'm not," Choiniere said. "I'll put it on my list for next year."
The National Cancer Institute deemed the Baltimore-based center "a comprehensive center" last year, making it one of about 30 comprehensive cancer centers in the world.
The designation recognizes cancer centers for their work in laboratory, clinical and population-based research as well as advancement in research. Stewart Greenebaum started the cancer center to honor the five-year cancer remission of his wife, Marlene, who is a 26-year breast cancer survivor. The comprehensive cancer center treats roughly 50,000 patients each year.
Michael Greenebaum, son of the cancer center's founders, said he enjoys seeing families coming together for the race's cause.
"I look forward to seeing the smiles on people's faces," he said. "I love seeing people feel good when they can actually give back to the community and do something great for their own bodies."
Lawrence Maykrantz, president of St. John Properties, said his company formed a partnership with the Greenebaum family as a race sponsor in 2011, which was also around the time his 25-year-old son was diagnosed with Non-Hodgkin's lymphoma. Maykrantz said his son received treatment at the cancer center and was cancer-free three months later.
"Fortunately, after six years, he's still cancer-free," Maykrantz said. "When it's your own child, you get a completely different perspective. … One of the things that I've noticed attending past years events is the community following."
This year's race will garner participants from 30 states, Greenebaum said, and will continue its tradition of bringing the fundraising effort to areas across the state.
"Runners have this outlet to raise money and awareness," Greenebaum said. "That's really what it's all about because cancer affects everybody in some fashion."
To register for the race or for more information, go to www.mdhalfmarathon.com.
http://www.baltimoresun.com/news/maryland/howard/ph-ho-cf-maple-lawn-5k-preview-0504-20170502-story.html