St. John Properties continues move into self-storage market with second facility
Baltimore Business Journal |  Melody Simmons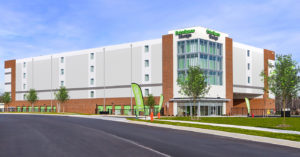 The second of three planned self-storage developments by St. John Properties opened this week in Anne Arundel County.
The 133,000-square-foot Extra Space Storage brand facility brings St. John's self-storage portfolio to 1,895 units in two locations.
The newest facility is located in the BWI Tech Park at 810 Pinnacle Drive. The five-story, ground-up development has 936 storage units that range in size from a four-foot-by-five-foot closet-like space to a 10-foot-by-30-foot unit that can, in some cases, hold the contents of a single-family home.
The move is the latest by the Woodlawn-based developer as it enters the U.S. self-storage market, which is estimated by industry experts to be worth $115 billion by 2025.
The self-storage market has held steady despite the impact of the Covid-19 pandemic on other areas of commercial real estate, said Sean Doordan, senior vice president for St. John.
"This real estate category has proven extremely popular among all business sectors," Doordan said, in a statement. "It is a proven low-cost alternative for the storage of documents, materials, equipment and product inventory.
"Self-storage facilities represent another important amenity serving clients in our mixed-use business communities as well as residents in the surrounding neighborhoods."
The storage facility is climate controlled and has round-the-clock access with computerized gates and 24-hour video monitoring. St. John partnered with Salt Lake City-based Extra Storage, a national chain located in more than 40 states.
The facility is located four miles from Baltimore Washington International Thurgood Marshall Airport and is the second of three planned by St. John.
Last year, St. John Properties opened a 135,000-square-foot, 959-unit self-storage development at Greenleigh at Crossroads in Middle River. St. John is a partner in the Maple Lawn-like development of 1,000 acres off Route 43 near Interstate 95.
A third self-storage facility is in the works by St. John for the Waugh Chapel Business Park in Gambrills.
The national self-storage craze is expected to grow by 8% each year through 2024, according a recent report by the data website ResearchandMarkets.com. The report says that businesses and homeowners are using the storage units to park unused documents and possessions — and the facilities are also being used by small businesses and e-commerce companies for inventory storage.