Local florist Petal Pusher relocating to Glen Burnie with new retail concept
Baltimore Business Journal  |  Melody Simmons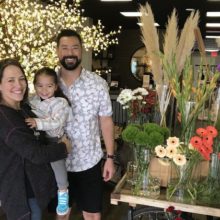 Even as Covid-19 continues to wreak havoc on the retail landscape, one small Baltimore-area business has decided to offer up some flower power and expand.
The decades-old Petal Pusher florist is moving to new digs and expanding in the Linthicum and Glen Burnie market with a new retail concept aimed at spreading joy in these uncertain times.
The store, WildFlower, will open in 2,600 square feet of space at 910 Cromwell Park Drive in the Cromwell Business Park. Owners Christine and Joey Guenther just inked the deal with developer St. John Properties, owner of the park, and will open next month with 15 new jobs.
The move will close the existing Petal Pusher store about a mile away in Linthicum Heights and consolidate the business into the new space. A second WildFlower store opened late last year near Annapolis.
The growth is the latest tinge of optimism in the local retail market despite the novel coronavirus and its shredding of jobs and local businesses over the past seven months.
Joey Guenther said Wednesday the business had remained open during Covid-19 and "fought very hard for our workers" to remain employed and provide a bit of beauty to families in quarantine.
"If you look at history, some of the greatest leaps and bounds have been taken during hard times," he said. "We support a lot of families who work for us. And our customers have been at home during this time. We are not just a flower shop — we are an experience."
The new WildFlower business concept will center on an open sales floor "stem bar" idea that will make all flowers for sale visible to customers when they enter the shop. The colorful cut flowers will be sold by the stem, mostly for under $5 each.
"A common thing people say when they come into to our shop is 'I don't know a lot about flowers,'" Christine Guenther said. "The goal is to remove that discomfort. Anyone can take a look at our stem bar and say 'I like that one.'"
The Guenther's acquired Petal Pusher about four years ago, continuing the legacy of the small suburban business that started in the 1980s in Anne Arundel County. Their mission then was to upgrade and update the concept of flower buying for everyday consumers, which led to the WildFlower idea.
The new store is the second business to open in the park after Starbucks last year. St. John launched an upgrade of the 10,725 square foot retail building in the business park over the past year.