Instructure enjoys new view at Pleasant Grove's Grove Tower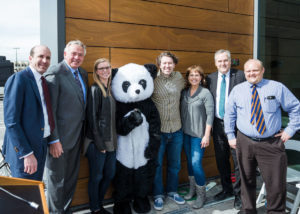 Instructure celebrated the view at the opening of its new Pleasant Grove location.
Instructure, a software-as-a-service technology company that makes software connecting instructors and learners, held a grand opening Wednesday afternoon at the six-story Grove Tower just off the Pleasant Grove Boulevard freeway interchange. The company had been working temporarily out of an office in the Valley Grove development there while waiting for construction to be complete at Grove Tower.
The Pleasant Grove location is Instructure's second Utah location. Company headquarters are in Salt Lake City. Instructure also has offices in Chicago, Seattle, Philadelphia, San Francisco, London, Sydney, Hong Kong and Brazil, and employs more than 1,100 people.
Jeff Weber, Instructure senior vice president of people and places, said the company has grown so quickly since its inception in 2008 by updating the old, unwieldy technology students and teachers use to interact. Weber said Instructure's co-founders, students at Brigham Young University at the time, "saw an opportunity to create a learning platform easy to use for both students and professors."
They developed their platform further, creating Canvas, which is used in both secondary and post-secondary schools. They continued to add to and update that platform. For the corporate world, the Instructure team created Bridge, which enables organizations to manage face-to-face and online learning experiences.
Weber was excited about the new location, because in addition to standard tech company perks, it boasts an open floor plan. There are no enclosed offices — only conference rooms, and "phone booths" for private calls.
"We've created collaborative spaces, almost like your living room, in a way. It's really easy to take a break from your desk and sit on the couch and chat with your co-workers," Weber said, explaining that collaboration is more conducive to workplace success.
The new office location houses about 100 employees, but will eventually accommodate up to 400, as the company continues to grow.
"Utah has been our home base for 10 years and continues to provide us with the right atmosphere for growth. We value the smart talent pool that allows us to scale quickly and continue to build our culture of awesome innovators who are passionate about helping people maximize their potential in classrooms and in companies," Weber said in a press release about the grand opening.
https://www.heraldextra.com/business/local/instructure-enjoys-new-view-at-pleasant-grove-s-grove-tower/article_fe70bf02-b3e2-584a-9c0c-1bfc0fb24bce.html