I-95 corridor encourages suburban Baltimore office expansions
The Daily Record  |  Adam Bednar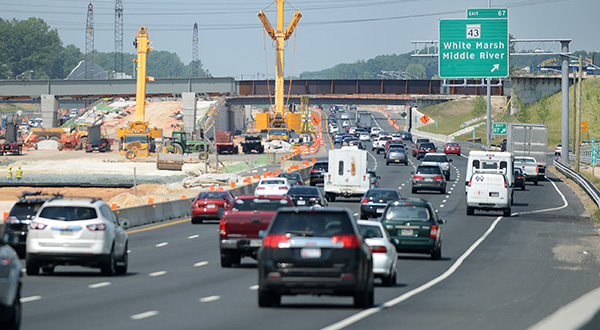 The high density of federal agencies along the Interstate 95 corridor has helped convince a pair of firms to expand in the suburbs outside of Baltimore.
L2 Defense Inc., which provides specialized logistics and training, rented 8,200 square feet at St. John Properties' Greenleigh at Crossroads in White Marsh. Freedom Consulting Group, a defense/information technology firm, leased 25,500 square feet of space at Corporate Office Properties Trust's Columbia Gateway business park in Howard County.
"Columbia Gateway increasingly is the go-to location for advanced technology and cybersecurity companies. Freedom Consulting already has a small presence with us elsewhere in the Fort Meade-(Baltimore and Washington) corridor market, and we are excited to accommodate their expansion into Columbia Gateway," Paul R. Adkins, COPT's executive vice president and chief operating officer, said in a statement.
L2 Defense Inc. plans to relocate about 30 employees from the firm's current location in Edgewood. The company leased space at 12 Irondale St., a 36,000-square-foot single-story office building St. John Properties constructed as a speculative asset.
L2 Defense provides logistics, engineering and training for biological, radiological and nuclear defense and emergency management to the U.S. military and to defense contractors, federal and state agencies.
Sam Lennon, the company's president, said the firm conducts most of its business in the I-95 corridor from Aberdeen Proving Grounds to Northern Virginia, which made Greenleigh at Crossroads an attractive location.
"It was important to remain close to our former address in Edgewood to minimize disruption to our customers and employees in that area, but we can now recruit talent from as far south as Columbia, which can be reached in approximately 30 minutes," Lennon said in a statement.
Private firms doing business in the defense industry represent a significant number of office users in suburban markets outside of Baltimore, particularly in Anne Arundel and Howard counties.
Those areas are near Fort Meade, home of the U.S. Cyber Command and the National Security Agency's headquarters.
The Columbia office market, with 12.9 million square feet of inventory, produced a vacancy rate of 12.6% in the first quarter of the year with Class A asking rents of $26.63 per square foot, according to a report by commercial real estate services firm CBRE.
In the area surrounding Baltimore Washington International Thurgood Marshall Airport, which provides 8.68 million square feet of office space, the same report placed the vacancy rate at 13.2%. Class A asking rates reached $32.15 per square foot.
Overall the Baltimore market, with more than 68.5 million square feet of office space, has a 14.7% vacancy rate and Class A asking rents of $24.04 pert square foot.