Homegrown ax-throwing bar opening in Sterling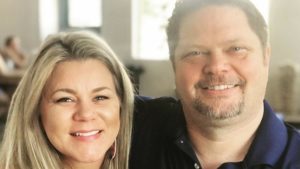 Washington Business Journal  |  Rebecca Cooper
A former traveling nurse and her businessman husband walk into an ax-throwing bar …
While it sounds like the beginning of a very 2019 joke, it's actually where the story of Axes and O's, Sterling's forthcoming ax-throwing venue, begins.
Tara Hampton-Radney had been working as a traveling nurse for 13 years when she decided she wanted a change. She was looking to start some kind of business, and happened onto ax-throwing when trying to plan a group birthday outing for her husband, Alan Radney.
They trekked to D.C. with a group of friends and spent the afternoon throwing. Even though the spot was in an out-of-the-way warehouse nearly an hour away from home, "we still had a blast," Hampton-Radney says.
That same night, Hampton-Radney looked at her husband, who works in finance, and said, "I want to open one of these." They got the project going the next month. Now, after a year, they are getting close to opening Axes and O's at 21680 Ridgetop Circle, Ste. 125, in Sterling, not far from some of the breweries that are opening in business park-type space in Loudoun.
Axes and O's will have 10 throwing lanes in its 8,700 square feet. There will be concrete floors and high metal ceilings "warmed up with fluffy rugs and comfy places to sit and nice lighting," she said. "It's by no means fancy, just more finished than the warehouse feel."
Hampton-Radney declined to provide startup costs, but did say the business is being self-financed in combination with a Small Business Administration loan. The goal is to be open by November, she said.
They're still working out all of the permitting with the Virginia Department of Health and the Virginia Alcoholic Beverage Control Authority, but the goal is to serve beer and wine — including some local beers from their neighbors, such as Crooked Run Brewing — and a menu of bar food.
Though as a nurse, Hampton-Radney is well-equipped to respond to any, er, incidents that could occur at Axes and O's, safety is actually a big part of how the business is designed. There are dedicated lane safety instructors on staff, and there is a two-drink maximum per person for a two-hour throwing session.
Axes and O's will also be an 18-and-up establishment, with the possible exception of special off-hours events, perhaps for scouting groups, Hampton-Radney said. They're also considering making Sundays a more family-friendly time, though there would still be an age minimum somewhere in the teens.
Hospitality isn't a far leap for the new entrepreneur, as Hampton-Radney worked for the better part of a decade in server, bartender and other front-of-the-house roles in restaurants before she became a nurse.
The venue hopes to target birthdays, bachelor/bachelorette parties, corporate events, team-building and other groups. They also joined the World Axe Throwing League and plan to host ax-throwing leagues during the week if there's enough interest.
Axes and O's will take reservations and is in the process of building out its online reservation system now. Walk-ins will also be welcome on a first-come, first-served basis. It will also have shuffleboard and other games for when people aren't throwing.