Five Minutes with Bob Becker, senior vice president at St. John Properties
The Baltimore Sun | Natalie Sherman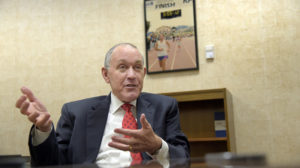 Baltimore (February 26, 2016) — Bob Becker didn't plan to enter real estate. He just wanted a summer job.
But that stint in 1975 as a driver for Ed St. John turned into a 40-year career working at St. John's company, helping St. John Properties grow from a roughly 12-person operation to a firm with more than 17 million square feet, 150 employees and offices in multiple states.
It's the kind of professional path that is increasingly rare in today's frenetic, unstable working world.
"I'm a dinosaur," said Becker, 62, now a senior vice president, but who was a rising senior at what is now Loyola University Maryland when he went to work for St. John. "I never did a resume in my life."
Lack of resume notwithstanding, Becker, the son of an optician and a kindergarten teacher, did have a head for business, starting a small lawn-mowing operation while still in middle school.
St. John said Becker stood out from previous college student drivers, who would wait in the car doing homework. Instead, Becker helped to get properties ready for client showings, showing an interest in the industry.
"When he went back to school, I felt like I had lost my partner," St. John said.
Brought on full time after graduation, Becker cut the grass, worked on roofs — even helped salvage a pile of leases soaked in Tropical Storm Agnes by drying them out in a bakery oven. He went on to lead the firm's leasing division for decades.
"The company and myself and he — we all grew up together, business-wise," St. John said.
Becker, who was diagnosed with multiple sclerosis at the age of 31, said the disease, in which his immune system attacks his central nervous system, has forced him to step back from work more than he would have liked, as his walking and ability to stand and schmooze all night has waned.
Even so, the former long-distance running fanatic is the first person who is not an owner or president of a real estate company to receive a lifetime achievement award from NAIOP Maryland, a commercial real estate trade association.
St. John said his firm, which made its name developing suburban flex office buildings in Maryland, wants to have a portfolio worth $1 billion in the next five years, opening an office in a new state every year. And Becker said he expects to be part of that growth, with no plans to retire soon.
"I realize I enjoy coming to work more than … sitting at home," he said.
Robert C. Becker
Title: senior vice president, St. John Properties
Age: 62
Current residence: Ellicott City
Education: Cardinal Gibbons High School, Loyola University Maryland, degree in business administration
Family: married with two sons
Interests/hobbies: former long-distance runner, skier, still plays tennis
http://www.baltimoresun.com/business/bs-bz-5-minutes-with-bob-becker-20160225-story.html