Eggplant parmesan with a side of TP: HoCo restaurant offers something extra with takeout
Baltimore Business Journal  |  Amanda Yeager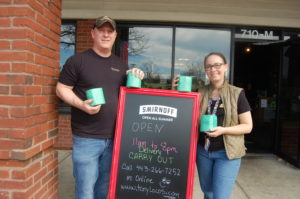 In uncertain times like these, we could all use an occasional dose of levity. As a second week of coronavirus-induced isolation sets in, many of us could probably use an extra roll of toilet paper, too.
A Howard County eatery has customers covered on both fronts. At Tony Locos Bar & Restaurant in Lisbon, owners Tony and Rosa Guarino have come up with a creative gimmick to draw in some business: they're offering one free roll of toilet paper with each carryout order.
Tony Guarino says he started the promotion as a way to bring some "humor and humanity" to a difficult time.
"I'm just trying to lighten things up a bit and bring a smile to our customers that sorely need it now," he said.
The restaurant, which serves Italian and Puerto Rican food, recently received too large a shipment of toilet paper — and with dining rooms throughout the state closed indefinitely by executive order of Gov. Larry Hogan, there's no chance it will be used up anytime soon. So the Guarinos decided to give it away.
"We got your back (side)," they wrote in a post to Facebook announcing the offer. They're not the only business to have the idea: in Baltimore, Patterson Public House was offering its own toilet paper giveaway last week, according to the pub's social media.
At Tony Locos, customers have claimed more than 100 rolls over the past few days. The eatery plans to keep the promotion going until it has given away 1,000 rolls.
"Most people just laugh at the offer but don't actually need the extra roll," Tony Guarino said. "Others are truly in need and take a few extra rolls… The idea has achieved its desired effect — getting people to take their mind off of things and increase sales."
The restaurant is also sending 10% of its proceeds to local charities, including the Lisbon Volunteer Fire Department.