Dominion Electric Supply Plans New Ashburn Location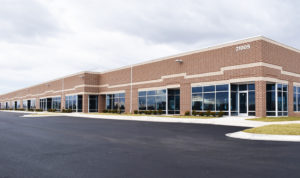 Dominion Electric Supply Company is the latest tenant to sign on at St. John Properties' 81-ace Ashburn Crossing office park.
The electrical supplies distributor is leasing 9,000 square feet for office and warehouse uses. Approximately five full-time employees are expected at the center when it opens in October.
Headquartered in Arlington, Dominion Electric was founded in 1940 and operates 12 locations throughout the region. The Ashburn site will be utilized as an office and warehouse for the sale and service of electric supplies and lighting fixtures
"We had our sights on the Ashburn area to expand for quite some time and, considering the strategic location and ease of accessibility provided by Ashburn Crossing, we jumped on the opportunity when it became available," stated Joe Baxter, Dominion's director of Branch Sales. "Our long-time relationship with St. John Properties made the decision that much easier."
"Dominion Electric Supply is a well-recognized brand throughout the region, and we are delighted to expand our long relationship with them," stated Matt Holbrook, regional partner for St. John Properties. "The strategic location of Ashburn Crossing provides convenient access to their customer base. This transaction kicks off our leasing activities at 21005 Ashburn Crossing as we continue to experience extremely strong activity for the remaining spaces."
21005 Ashburn Drive is a single-story 43,800-square-foot flex/R&D building featuring suites ranging from 2,760 to 29,280 square feet of space, dock and drive-in loading capacity and free parking at the rate of four spaces per 1,000 square feet. It was constructed to exceed Leadership in Energy and Environmental Design Gold certification for environmental sustainability to conserve energy and reduce operating costs.