Dominion Electric Supply inks lease at Ashburn Crossing business park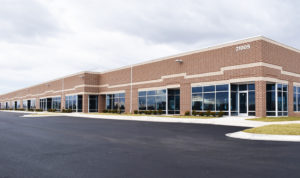 Dominion Electric Supply Company has signed a lease with St. John Properties for 9,000 square feet at the Ashburn Crossing business park at 21005 Ashburn Crossing Drive. The 81-acre business community will comprise more than 200,000 square feet of R&D, office and flex space at final build-out.
Arlington-based Dominion Electric Supply is a distributor of electrical supplies and lighting fixtures for commercial and residential uses. The company operates 12 locations throughout the Maryland and Virginia region, including three lighting showrooms in Arlington, Chantilly and Laurel, Maryland. The Ashburn site will be utilized as an office and warehouse for the sale and service of electric supplies and lighting fixtures, according to company officials.
Approximately five full-time employees are expected to work in Ashburn Crossing upon the store's opening in October.
"Dominion Electric Supply is a well-recognized brand throughout the region, and we are delighted to expand our long relationship with them," Matt Holbrook, regional partner for St. John Properties, said in a prepared statement. "The strategic location of Ashburn Crossing provides convenient access to their customer base. This transaction kicks off our leasing activities at 21005 Ashburn Crossing as we continue to experience extremely strong activity for the remaining spaces."
Danny Foit of St. John Properties represented the landlord, and Kevin Goeller, Ryan Goeller and Chase Stewart of NAI KLNB represented the tenant in the transaction.
St. John also owns the 445,000-square-foot Ashburn Technology Park and 125,000-square-foot Loudoun Tech Center. The company in recent years has dealt large Loudoun properties to data center operators.