Developer's gift to help add elevator, skywalk to Pleasant Grove library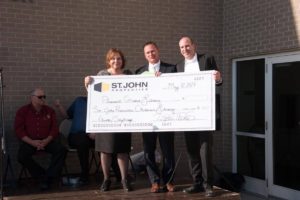 Daily Herald  |  Laura Giles
VALLEY GROVE, UT (May 21, 2017) — Book donations are common at libraries, but Pleasant Grove's library will be receiving a donation of a different type — a much-needed elevator.
The elevator and accompanying skywalk will be built thanks to developer St. John Properties.
Sheri Britsch, library director, said she has been researching ways to fund an elevator since she began working at the library on Center Street in 2014.
"I immediately started investigating ways to get books up and down from the main level of the library to the basement," she said. "My research and contractor estimates showed a simple book elevator would cost $80,000.
"That was too much money to spend on only transporting books when we needed the elevator for people, particularly for people with mobility concerns."
Britsch applied for and received a Community Development Block Grant of $140,000, but bids for construction were around $320,000.
"The labor and monetary donation from St. John Properties will cover that gap," she said.
The changes will benefit library patrons who have a difficult time using the stairs. The library sees a lot of traffic, with about 14,000 visits per month.
The restrooms are in the basement and many have a difficult time getting up and down, Britsch said.
"I passed an elderly man on the stairway who was struggling to get to the restroom. By the time I passed him, it was too late," she said. "No one should have to go through that embarrassment."
City Councilman Eric Jensen said he did some research on St. John Properties when it started working with the city about 15 months ago. The developer is currently building the new Valley Grove business park in the city.
"I noticed how they really got involved in the communities in which they were developing," Jensen said. "One thing that stood out and was an ongoing theme is founder Edward St. John's belief that 'Education has the power to transform lives and strengthen communities.'
"I thought, 'What a great company that believes in communities.'"
Jensen then approached Daniel Thomas, regional partner for St. John Properties.
"We started thinking of ways to carry this theme into our community," Jensen said. "St. John Properties and their contractors have stepped up to help build our elevator, skywalk on the upper level to connect it to that floor and renovate our children's library."
According to a media release from St. John Properties, "This will enable wheelchair access to the library's resource center, the children's library and finally allow the restrooms to be ADA accessible. Work on the elevator is set for completion by year-end, complimenting the company's 60-acre master-planned development known as Valley Grove."
Jensen said the library project could not happen without the support of the mayor and all five members of the City Council, who voted unanimously in support of it.
http://www.heraldextra.com/news/local/north/pleasant-grove/developer-s-gift-to-help-add-elevator-skywalk-to-pleasant/article_6159c7a4-302c-5e6a-a17a-e3407defcf95.html