Developer breaks ground on Md. 85 business park
Frederick News Post  |  Ryan Marshall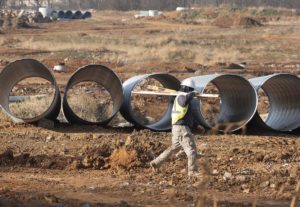 The commercial real estate developer St. John Properties has begun work on a business park that will ultimately have nearly 200,000 square feet of warehouse space.
The first phase of three buildings in the Arcadia Business Park off Md. 85 in Frederick is expected to be finished this summer, according to a news release from the company. The park will ultimately have eight buildings.
The 61-acre property is near what is known as Conestoga Trail, which will eventually be renamed Arcadia Way, said Matt Holbrook, regional partner for St. John Properties.
The company was ready to start the project in 2009 before the recession, but has spent the time since then trying to make sure the project was what they needed, he said.
One of the buildings under construction will have 37,080 square feet of flex/research and development space, while another will have 45,120 square feet of the same use, according to a news release. The third building will be 112,000 square feet of bulk/warehouse space.
The project will eventually add five other buildings, Holbrook said.
He said the location of the property was attractive to the company, near Md. 85 and Interstates 70 and 270. The interchange under construction at Md. 85 and I-270 will be helpful for the project, he said.
Holbrook said he's not worried that the project will help contribute to a surplus of warehouse space in the area. Other areas such of Montgomery County are running out of space for this type of development, he said. The company monitors national and local trends in deciding what types of development to build.
Holbrook said the increasing need for space for businesses such as biotech or e-commerce companies has created a demand for this type of space that can be used for a variety of purposes.
"There's just a growing demand for high-quality space," he said.