Community rallies to supply Utah County's first responders with 3D-printed masks
Valley Grove client Fortem Technologies was recently featured in the Deseret News, highlighting their support of first responders amid COVID-19:
Deseret News  | Sahalie Donaldson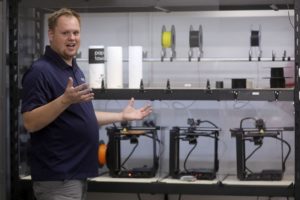 PROVO, UT — Employees at a Utah County tech company spent the weekend creating protective masks with 3D printers, trading shifts and switching the materials in and out of the machines in an effort to protect first responders working amid COVID-19.
On Monday morning, three Fortem Technologies employees donated 50 3D-printed masks and 50 surgical masks to the Provo Police Department, where a team was waiting at the front steps to receive them.
Eric Fowkes, a former Provo resident and Fortem Technologies lead drone architect, said the airspace security company is in the process of creating more masks.
"As long as we have our printers up and running and filament, we will keep on going until the need is no longer there," he said.
In partnership with the Utah County Sheriff's Office, Springville Police Department, BYU, UVU and the Nebo School District, Provo police put a call out on social media Friday urging the members of the community to put their 3D printers to use and help pump out protective masks.
"The need is great," said Provo Police Chief Rich Ferguson in a news release, "with our goal of ensuring every single one of our more than 550 Utah County police officers and 90 paramedics have a 3D mask, for their safety and the safety of those they serve."
Response was rapid.
"This is a community effort and in times of shortage, I'm actually really amazed that the community as a whole can come together and come up with unique solutions to problems we are facing right now," Fowkes said. "I'm just glad to be working for a company like Fortem Technologies that gives me the opportunity to give back to the community."
He explained that his company was equipped to respond right away to Provo police's request, as Fortem has multiple 3D-printers and could have more than 10 in use at a time throughout the weekend — each mask taking about an hour and a half to complete.
Employees traded off going into the office to switch them out. Others had personal printers running in their homes.
Fowkes said the team originally planned to print 200 masks, but since making their plans public, two more agencies have reached out requesting their own supply, including Unified police in Salt Lake County.
Sgt. Nisha King, Provo police spokeswoman, said the donated 3D-masks will be distributed to Provo Fire Department as well as their partners' officers.
Response has been so great, Provo police plan to distribute the masks to other agencies throughout the county as well — about 550 strong, King said, noting the department didn't originally expect it would be able to reach so many people.
Since it was posted, Provo Police Department's initial plea for additional masks has been shared over 900 times. King said she's had hundreds of people reach out to her and that the department had received about 200 masks as of Monday at 11 a.m — Fowkes' donation included.
"Even in circumstances of a crisis, usually there's one or two ways it can go — people could fend for themselves and abandon each other or they can look out for their neighbor and come together," she said.
King explained there is a shortage of masks for first responders. The 3D-printed masks will help departments stretch their supply, because the mask's design allows for a replaceable filter made from N-95 mask materials. One N-95 mask can provide filters for five reusable masks.
They are safe, reusable, can be sanitized, and do offer some level of protection against COVID-19, King said, and while they aren't necessarily as good as the N-95, "having some protection is definitely better than not."
Provo Mayor Michelle Kaufusi said the community response and outpouring of donations is no surprise.
"We are practicing calm preparedness in Provo," Kaufusi said in a statement. "We can't know what the response needs for COVID-19 will be, but we can do all we can now to be as prepared as possible for any scenario and, most importantly, that our first responders are both protected themselves and are protecting those who need us."