Becker took unique route to lifetime achievement award
The Daily Record | Adam Bednar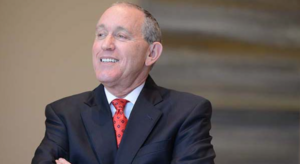 Baltimore (February 24, 2016) — Robert C. Becker's career in commercial real estate started off behind the wheel of a car.
In 1975, while still a student at what was then Loyola College, Becker answered a newspaper ad looking for a corporate driver. When he went in for an interview he didn't know what to expect.
"I never did a resume in my life," Becker, a Cardinal Gibbons graduate, joked in his Baltimore accent.
Once he arrived at the interview, he found out that the job wasn't just as any corporate driver. He'd be the personal driver for Edward St. John, founder of St. John Properties.
Becker didn't know it then but that interview, and his hard work, started him on a more than 40-year career, so far, in commercial real estate that will be honored in April.
In January, NAIOP Maryland named Becker, now the senior vice president for leasing at St. John Properties, its lifetime achievement award winner.
The award is given by the organization every other year, and the winner is chosen by NAIOP Maryland's board. It is
the first time the award will be given to a commercial real estate professional who isn't at least a president in his or her company.
Previous award winners include St. John, Scott Dorsey of Merritt Properties and Harold and Bernard Manekin of Manekin LLC.
Brendan Gill, president of NAIOP Maryland and president of MacKenzie Management Co. LLC, said Becker's name was previously mentioned as a candidate for the award, but this time it was obvious he should be recognized.
"He's a total pro and veteran of the industry … and he's really well-regarded at almost every level of [commercial] real estate. He's well-regarded by developers, he's well-regarded by lawyers, he's well-regarded by brokers … it was an easy decision for us, he's a great guy," Gill said.
During his time as a driver St. John took notice of Becker's initiative. When they'd arrive for property showings Becker automatically knew to make sure the front of the buildings were clean, the lights were on and to help get the property ready to show.
That initiative and attention to detail impressed St. John, who made it clear there would be a job for Becker when he finished college.
Becker, who graduated with a degree in business administration after witnessing a hysterectomy turned him off from studying medicine, took St. John up on the offer.
But the position wasn't the type of gig most college graduates dream about.
Becker worked as part of a two-man grounds maintenance department that largely involved riding around in a pickup truck, cutting grass and making necessary repairs at company properties.
Becker, who described himself as more of an athlete than a handyman, stuck it out. Eventually he was promoted to the head of the two-man maintenance department before moving up to property management.
But in 1978 St. John gave the 24-year-old Becker the opportunity of his young career — he put him in charge of leasing.
Looking back on the decision Becker is even more taken aback now.
"I'm more surprised now then I was at the time," he said.
But the decision to trust the young Becker was a good one; he's played a key role in the company's success during the past four decades.
St. John Properties has expanded from roughly 3 million square feet of property, mainly consisting of bulk
warehousing, at the time of Becker's hiring to more than 17 million square feet of property, including research and development/flex, residential and office space.
Becker attributed the company's success to a culture emphasizing team work and a strong work ethic.
"If you have a great golf score you won't work out here," Becker said with a chuckle.