Baltimore Community Lands $73M HUD Construction Loan
Multi-Housing News  |  Bogdan Odagescu
The 317-unit Berkleigh in Middle River is part of Baltimore Crossroads @ 95, a large-scale project that will encompass office space, retail, two hotels, 1,000 homes and two multifamily properties.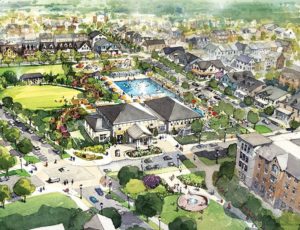 MIDDLE RIVER, MD (June 28, 2017) — Walker & Dunlop closed on a $72.6 million HUD loan structure for The Berkleigh, a Class A multifamily development in Middle River, Md. The company worked on behalf of developer St. John Properties. The 317-unit community broke ground in May, The Baltimore Sun reports.
Managing Director Dee McClure of Walker & Dunlop spearheaded the financing efforts. The loan secured for The Berkleigh was closed through HUD's 221(d)(4) new construction program. The financing includes a two-year construction loan followed by a 40-year, fully amortizing, permanent fixed-rate loan.
A 1,000-ACRE MASTER-PLANNED PROJECT
Located at the intersection of White Marsh and Eastern boulevards, the property is part of Greenleigh, a component of the master-planned Baltimore Crossroads @ 95, one of the largest Mid-Atlantic mixed-use projects. Upon completion, the 1,000-acre development will encompass office space, retail, two hotels, 1,000 homes and two multifamily properties.
Apart from St. John properties, several other developers are working to deliver at Baltimore Crossroads, including Chesapeake Real Estate Group, First Industrial Realty Trust and Elm Street Development. Somerset Construction Co. is acting as master developer.
The Berkleigh, which will encompass two four-story buildings, is the second multifamily property scheduled to come online at Baltimore Crossing. The 365-unit, LEED Gold-certified The Arbors, which was completed in April 2012, is owned by Somerset Construction Co. and is being managed by The Bozutto Group. According to Yardi Matrix, Walker & Dunlop originated a similar HUD loan for The Arbors. The $56.7 million financing was closed in December 2010 and matures in 2052.
Images courtesy of St. John Properties
https://www.multihousingnews.com/post/baltimore-community-lands-73m-hud-construction-loan/