7 retail developments under construction in Utah Valley that you should know about
The Daily Herald
PROVO, UT (March 22, 2017) — Large retail developments are popping up throughout the county, from Lehi to Payson. Here are seven retail developments currently under construction in Utah Valley.
1. The Crossing
The Crossing, located at the corner of Redwood Road and Pioneer Crossing in Saratoga Springs, will be anchored by a Smith's Marketplace store. Ground was broken in February 2016 for the 123,500 square-foot development.
The center's buildout will mark the first phase of a multi-phase commercial and retail development on 75 acres.
The Crossing development will include commercial and retail space on 75 acres.
The anticipated open date for the Smith's Marketplace is June 7.
2. The Mix at Rivers Edge
Taking the place of the former Plumtree Plaza on University Parkway in Provo, The Mix At River's Edge was announced in
Nicknamed "The Mix," it is a major mixed-used development of retail, business, housing and hotel with new and existing restaurants. The retail area, which is expected to be completed by the end of this fall, will feature smaller stores with an open esplanade and visiting area that is completely walkable.
Notably, Movies 8, located at the site of the new development, closed last week after the longtime Provo theater did not renew the lease on the building.
3. University Place
Plans to turn University Mall into a "university district" called University Place were released in October 2013, and since that time, the site has undergone construction on a new office building, apartment buildings, new retail and restaurant spaces and the Orchard Park.
The project managers announced this month that they were entering the next phase of project construction including a new five-story parking structure that will be built in two phases.
At least two more high-rise office buildings are scheduled for the University Place campus, part of its 10-year plan.
As part of the second phase parking build-out, apartments will also be built on the east end of the parking structure.
There are still retail, housing and even a hotel waiting in the development wings. Some properties on the campus are still up for ideas on best uses.
4. Old Malt Shoppe Location
The old Malt Shoppe on University Avenue in Provo was demolished in 2016, and a new building is rising in its place.
The development will be a small, multi-tenant retail and/or eatery location, according to Gary McGinn, Provo's director of Community Development.
5. Provo Towne Centre
A San Diego-based real estate firm, Brixton Capital, closed on its purchase of the Provo Towne Centre on Jan. 29, 2016.
The enclosed mall in south Provo features nearly 802,000 square feet of shops, restaurants and entertainment space.
Over the next several years, Brixton plans to do a robust capital expenditure program to adapt the property to modern needs.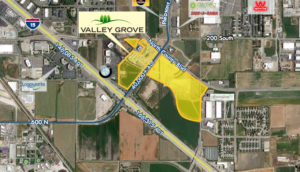 6. Valley Grove
Located just off I-15 along Pleasant Grove Boulevard in Pleasant Grove, Valley Grove is a mixed office buildings and retail shopping area. The first phase of the project, which includes construction north of Pleasant Grove Boulevard, is nearing completion.
7. Canyon Creek
Woodbury Corp. and its partner, WPI Enterprises, announced Thursday via press release that 245,000 square feet of retail and restaurant space will be added to the Canyon Creek Shopping Center in Spanish Fork, including up to 45 new retail tenants upon completion.
Businesses that have been confirmed include big names like Cinemark, DownEast Home, Ulta Beauty, Famous Footwear, Petco and Ross, the press release stated.
Several other businesses are currently being communicated with, said Amanda Butterfield, public relations director for Woodbury, but cannot be formally announced.
The final project will eventually include over 1 million square feet of retail and commercial space, the release said, including 65 acres for a hospital and health care space.
http://www.heraldextra.com/business/local/retail-developments-under-construction-in-utah-valley-that-you-should/collection_61c502e4-7739-5244-9b73-52b9b13fbdd8.html