The 416-unit Residences at Annapolis Junction opens its doors
Baltimore Business Journal | Melody Simmons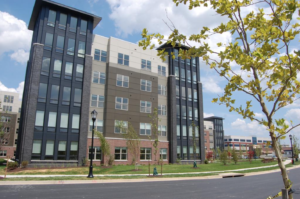 ANNAPOLIS JUNCTION, MD (August 16, 2017) — The residential component to the Annapolis Junction Town Center in Howard County has started to lease.
As workers put the finishing touches on the five-story, 416-unit Residences at Annapolis Junction development, residents are beginning to move in, said Neil Greenberg, chief operating officer of Somerset Construction Co. The Bethesda company is developing the project along with Armada Hoffler Properties, based in Virginia Beach.
The transit-oriented development is connected to the Savage MARC Line.
Also included in the $180 million development is 100,000 square feet of office space and 20,000-square feet of retail, which surround the residential units.
The first wave of residents are moving into one and two-bedroom units, Greenberg said. There are also 45 studio units.
Rents start at $1,395 a month and go as high as $3,007 a month.
Amenities include a fitness center, a saltwater swimming pool surrounded by cabanas, a billiards room and multi-media center with a 120-foot television screen.
The development has a LEED Gold certification from the United States Green Building Council and tenants have a "utility guarantee" built into their rent that allows them to pre-determine cost-saving energy costs per month.
Annapolis Junction is a total 19-acre development close to Fort Meade. St. John Properties is developing the commercial office and retail space and last year built a 100,000-square-foot office building on speculation.
https://www.bizjournals.com/baltimore/news/2017/08/16/the-416-unit-residences-at-annapolis-junction.html