$21 million Mt. Pleasant Commerce Center on Highway 20 partially complete
The Journal Times  |  Michael Burke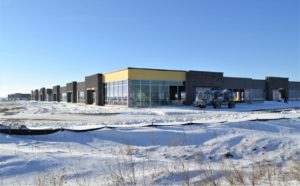 MOUNT PLEASANT, WI — A sprawling, roughly $21 million office/light industrial development near Interstate 94 is now partially complete.
Mt. Pleasant Commerce Center, which went under construction last summer, is a project of the Harland regional office of Baltimore-based St. John Properties.
St. John is the commercial developer which briefly earned nationwide glory in December when it showered its 198 employees with $10 million in bonuses.
The new Commerce Center here is being built on 19.1 acres south of Highway 20, slightly east of South East Frontage Road.
The development will total nearly 200,000 square feet when finished, with half of that being straight office space in two L-shape, one-story buildings facing each other around a central green space.
The other half of the square footage will lie within three rectangular ceiling office-warehouse buildings south of Globe Drive.
Greg Fax, regional partner for St. John, estimated that perhaps 350 employees, plus or minus 50, will work in the Commerce Center's offices when filled. The office-warehouse, or flexible, spaces might have about half of that, he said, for a total of possibly about 500 Commerce Center employees.
Fax said the company's market research showed that offices were the best fit for that location, because there was an inadequate supply in the area. He chose one-story office structures because they eliminate some of the common areas, such as elevators and stairways, that would require cleaning, increase the cost of upkeep and increase tenant rents.
"That's our experience," he said, "and we have had success with (the one-story style)."
Each tenant's office space will be self-contained with its own plumbing and bathrooms and have parking directly in front of its entrance. "People like the direct access; they can park in front of the door," Fax said.
'Flex' spaces
The first tenant to sign a lease, Fax said, was a physical-therapy firm which is taking about 13,000 square feet in one of the office-warehouse, or "flex space" buildings.
Another PT firm, which would complement the first, is also considering taking space. And Fax said he has a lease sent out to an electronics distribution company that needs a half-office, half-warehouse space.
He said other businesses that would require that type of space, with about a 16-foot ceiling, would include biological laboratories and contractors' offices and need an average of 3,000 to 4,000 square feet.
None of the space is designed for bulk distribution, Fax added, because the ceilings are not high enough.
Tenant build-outs
Construction of the Commerce Center offices is finished, Fax said, and St. John could start tenant improvements.
However, there is currently a months-long delay just to talk to a state plumbing inspector. Once a build-out can start, most average about 60 days, Fax said.
He's still trying to decide what to do with the open space between the office buildings and is considering putting seating out there and/or possibly a pickle ball court.