The Wilburn Company Signs 10,890 Square Foot Lease at BWI Tech Park for New Corporate Headquarters
More than 350 people work for company, which provides commercial cleaning for corporate offices and high-security government facilities throughout Maryland and Washington, D.C.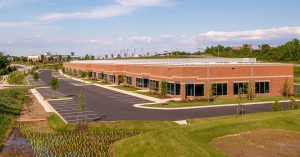 BALTIMORE, MD – The Wilburn Company, Inc. has signed a lease with St. John Properties, Inc. for 10,890 square feet of space at BWI Tech Park, and plans to relocate its corporate headquarters to the 156-acre business community in Anne Arundel County this fall. The group, which employs more than 350 people, will occupy 805 Pinnacle Drive, a single-story building comprised of 62,160 square feet of flex/R&D space. Lacey Johansson of St. John Properties represented the landlord in this transaction.

Founded in 1998 by Jim Wilburn, The Wilburn Company provides commercial cleaning services for corporate offices and high-security government facilities throughout the greater Maryland and Washington, D.C. metropolitan region. The company, which cleans more than 11 million square feet of space daily, is a GS-42 certified cleaning provider with an emphasis on reducing chemical and solid waste, optimizing cleaning frequencies and providing continuing training to staff on emerging green cleaning protocols.

805 Pinnacle Drive earned a Leadership in Energy and Environmental Design (LEED) Gold certification from the U.S. Green Building Council for satisfying green and sustainable requirements in the construction of the building's core and shell. Design features include systems to reduce water and energy usage, enhanced daylighting and the use of building materials to help promote the health and well-being of tenants.

"Since our inception, we have been operating within the same warehouse building and felt this was the opportune time to significantly upgrade our facilities and provide a welcoming and healthy environment for our employees that will also enhance productivity," explained Jimmy Wilburn, President & CEO of the company and son of the founder. "The most important aspects of 805 Pinnacle Drive were the full-building length windows that provide access to natural light, our ability to design a new interior space from scratch that meets our exact requirements, and the onsite warehouse capacity. Leasing within a LEED building also aligns closely with our core mission to provide green cleaning solutions to our client. An added plus was the strategic location near major highways which will provide convenient access to our clients throughout the DMV region."

BWI Tech Park presently contains a mix of multi and single-story Class 'A' commercial office, flex/R&D, retail and self-storage space. The business community is located adjacent to MD Route 295 and is less than 10 miles from Baltimore and less than 20 miles from Interstate 495 (Capital Beltway). Restaurant amenities contained within the business community include Cracker Barrel, Toro Bravo and Urban Bar-B-Q Company.

"The Wilburn Company is the latest organization to recognize the importance of key design elements integrated within our newest flex/R&D buildings, providing our tenants with ultimate flexibility and customization," stated Matt Lenihan, Senior Vice President, Leasing for St. John Properties. "BWI Tech Park's occupancy continues to climb, due to the incredible access from major highways, wide range of amenities and success of the surrounding BWI business community."

Founded in 1971, St. John Properties, Inc. is one of the nation's largest and most successful privately held commercial real estate firms. The company is distinguished by its commitment to customer service, achievements in green building, and top-rated workplace culture. Throughout St. John Properties' 51-year history, the company has developed more than 22 million square feet of flex/R&D, office, retail, warehouse space and has investments in over 2,600 apartments. The company proudly serves more than 2,500 clients in Colorado, Louisiana, Maryland, Nevada, Pennsylvania, Texas, Virginia, Utah, and Wisconsin. For more information about the company, visit www.sjpi.com.