Supreme Lending Consolidating Its Local Westminster and Owings Mills Offices at Reisterstown Crossing
Mortgage company Supreme Lending signs 15,492 square foot lease with St. John Properties, Inc. for new branch office location at Reisterstown Crossing.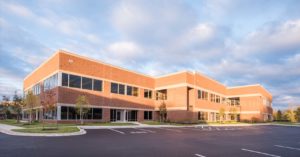 BALTIMORE, MD (September 14, 2021) – Everett Financial, Inc., dba Supreme Lending, has announced intentions to consolidate the sales and production offices of its branch, The Meridian Team of Supreme Lending, from the Owings Mills and Westminster areas respectively to Reisterstown. The local branch of Dallas-based Supreme Lending has signed a lease with St. John Properties, Inc. for 15,492 square feet of space at Reisterstown Crossing and plans to move 150 employees to this mixed-use business community in October. Michael Sacks of St. John Properties represented the landlord and Lizzy Sweeney of Cushman & Wakefield represented Supreme Lending in this lease transaction.
Supreme Lending's office will be located at 118 Westminster Pike, a two-story building comprised of 30,600 square feet of Class 'A' commercial office space. It will be outfitted and equipped to enhance The Meridian Team's abilities to deliver home loan financing to individuals and families across the United States. The team relies on innovative technology and access to a wide variety of loan programs to meet their customers' lending needs.
"This relocation was driven by our desire to combine our sales and production offices under one roof, which will improve inter-office communication and efficiencies, reduce expenses, and create a higher level of branch camaraderie," explained Glenn Belt, Regional Manager at The Meridian Team of Supreme Lending. "Employees are the lifeblood of our organization. So, prior to beginning our search, we mapped out the home address of each of our employees working in both offices to determine the most central location. The area near the top of Interstate 795 emerged as the perfect location and that happens to be exactly where Reisterstown Crossing is situated. Things could not have worked out more perfectly."
Positioned at the intersection of Westminster Pike (MD Route 140) and Butler Road, Reisterstown Crossing will feature four buildings comprising nearly 90,000 square feet of commercial office and retail upon completion. Directly adjacent to Interstate 795, the business community also contains 114 and 116 Westminster Pike, comprising 12,675 square feet of retail and 14,280 square feet of single-story office space respectively. 118 Westminster Pike is a 30,600 square foot two-story office building, and earned LEED Gold certification from the U. S. Green Building Council for the use of building materials and construction processes that deliver healthy buildings and contribute to an eco-friendly environment.
As a result of this recent leasing activity, St. John Properties intends to complete development activities at Reisterstown Crossing with the construction of 120 Westminster Pike, a two-story building consisting of 30,600 square feet of commercial office space. The LEED-designed building is expected to be delivered in 2022.
More than 32,000 people reside within a three-mile radius of Reisterstown Crossing, including more than 12,000 households with an average household income approaching $115,000. The business community is located five miles from Owings Mills, 10 miles from Hampstead, and 12 miles from Westminster.
"We have consistently grown over the past twenty years, despite the cyclical nature of the residential mortgage industry, by keeping our team intact and making customer service a point of emphasis and differentiation," Belt added. "We have particularly enjoyed our relationship with St. John Properties based on its single-source approach and ability to manage each phase of the real estate process, from leasing to tenant build-out. The residential mortgage industry remains a critical piece of the U.S. economy, and we anticipate continued success in the greater Carroll and Baltimore County areas."
"Reisterstown Crossing is uniquely positioned for companies seeking access to northwest Baltimore County and Carroll County,"explained Sean Doordan, Executive President, Leasing & Acquisitions for St. John Properties. "Recent leasing activity, combined with our continued real estate success, provides us tremendous confidence to proceed with the final development phase of Reisterstown Crossing."
Based in Dallas, Texas, Supreme Lending is a full-service mortgage lender where the customer always comes first. Since Supreme Lending was founded by Scott Everett in 1999, the independent lender's mission has been to create the best home financing experience possible, with a unique focus on transparency. Supreme Lending is licensed in all 50 States as a mortgage lender and has branches across the United States. Supreme Lending offers a full-range of Conventional mortgage loans as well as VA, FHA, and USDA mortgage loan programs.
Founded in 1971 and headquartered in Baltimore, Maryland, St. John Properties, Inc. is one of the Mid-Atlantic's largest privately held commercial real estate firms. The company is distinguished by its commitment to customer service, achievements in green building, and top-rated workplace culture. Throughout St. John Properties' 50-year history, the company has developed more than 21 million square feet of flex/R&D, Office, Retail and Warehouse space serving more than 2,500 clients in Maryland, Colorado, Louisiana, Nevada, Pennsylvania, Virginia, Utah, and Wisconsin. For more information about the company, visit sjp.mu9b0uf9-liquidwebsites.com.