St. John Properties Promotes Michael Dickson to Vice President, Construction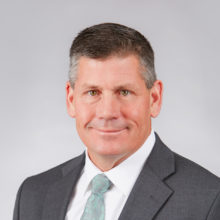 BALTIMORE, MD (November 11, 2021) – St. John Properties, Inc., a Baltimore-based full-service commercial real estate development and investment company, has announced the promotion of Michael Dickson to Vice President, Construction. Dickson, who was formerly Assistant Vice President, Construction, has worked with the company since 2001.
Dickson's responsibilities will continue to include the day-to-day management of ground-up construction activities for the company's portfolio of commercial office, flex/R&D, retail and industrial/warehouse buildings located throughout the Maryland region. This includes the management of all construction schedules and budgets as well as overseeing subcontractors, project managers, third-party engineers and architects.
Dickson has more than 25 years of construction management experience. He earned a Bachelor of Science degree in Construction Management from Northern Michigan University and received his LEED, AP designation from the U. S. Green Building Council.
"This promotion reflects the tremendous amount of confidence we have in Michael's instincts, knowledge of construction principles and ability to consistently perform and meet important deadlines," stated Jeffrey Gish, Executive Vice President, Construction for St. John Properties. "We have been among the extremely small number of commercial real estate companies that have maintained an aggressive speculative construction strategy, and it is critical to have talented professionals on-staff to continue this active pace. Michael is keenly focused on workplace safety, and the timely execution of construction plans to satisfy the real estate needs of our valued clients."
Founded in 1971 and headquartered in Baltimore, Maryland, St. John Properties, Inc. is one of the Mid-Atlantic's largest privately held commercial real estate firms. The company is distinguished by its commitment to customer service, achievements in green building, and top-rated workplace culture. Throughout St. John Properties' 50-year history, the company has developed more than 21 million square feet of flex/R&D, Office, Retail and Warehouse space serving more than 2,500 clients in Maryland, Colorado, Louisiana, Nevada, Pennsylvania, Virginia, Utah, and Wisconsin. For more information about the company, visit sjp.mu9b0uf9-liquidwebsites.com.