St. John Properties Promotes Gus Valenzuela to Director of Maintenance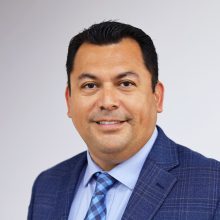 BALTIMORE, MD — St. John Properties, Inc., a commercial real estate firm which has developed more than 22 million square feet of space and is active in nine states, has promoted Gus Valenzuela to Director of Maintenance. Valenzuela began his career with St. John Properties in the Construction division before joining the Property Management team as a Maintenance Technician, then Building Engineer, and has been with the company since 2004.

Valenzuela directs the day-to-day activities of the St. John Properties in-house team of maintenance technicians. His role includes directing training protocols, facilitating continuing education opportunities, overseeing routine equipment checks, maintaining a high level of performance and timeliness among the team, and identifying new talent for the expanding team of professionals. Valenzuela also acts as a liaison between clients and the St. John Properties property management team to immediately address the diverse needs of companies throughout the Maryland portfolio.

"Maintaining safe and productive working environments for clients is our priority, which is why we place such an emphasis on the proper upkeep of equipment, mechanical systems and performing preventative maintenance," explained William McFaul, Executive Vice President, Property Management for St. John Properties. "Gus does a tremendous job of inspiring his team to provide first in class customer service. He leads by example with a strong work ethic and uses a forward-thinking approach to our maintenance strategy. Gus is a key member of our management team, and his promotion is in recognition of his hard work and the loyalty he has displayed to our company and our tenants."

Founded in 1971, St. John Properties, Inc. is one of the nation's largest and most successful privately held commercial real estate firms. The company is distinguished by its commitment to customer service, achievements in green building, and top-rated workplace culture. Throughout St. John Properties' 51-year history, the company has developed more than 22 million square feet of flex/R&D, office, retail, warehouse space and has investments in over 2,600 residential units. The company proudly serves more than 2,500 clients in Colorado, Louisiana, Maryland, Nevada, Pennsylvania, Texas, Virginia, Utah, and Wisconsin. For more information about the company, visit www.sjpi.com.