St. John Properties Promotes Doug Littleton to Director, Interior Construction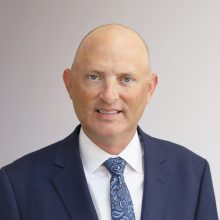 BALTIMORE, MD – St. John Properties, Inc., a Baltimore-based commercial real estate development and management company with a national portfolio valued at more than $5 billion, has announced the promotion of Doug Littleton to Director, Interior Construction. Formerly Senior Project Manager, Interior Construction, Littleton has worked with the company since 2010.

Littleton will continue his responsibilities in overseeing the execution of tenant build-out activities throughout St. John Properties' portfolio of business communities in the greater Baltimore region. This includes directing the efforts of construction field staff, estimating budgets, scheduling jobsite tasks and coordinating inspections, all while interfacing with tenants, design professionals, leasing representatives, and third-party subcontractors to meet critical move-in deadlines.

Littleton has more than 22 years of directly-related construction management experience. He holds an Associate's degree in Business Administration and Management from Baker College of Flint.

"Doug is an extremely dependable professional with a strong track record of executing complex and challenging tenant build-out activities on time and on budget, as well as meeting the varied objectives of our clients," stated Tom Nelson, St. John Properties' Vice President of Interior Construction. "He brings a problem-solving and detail-oriented approach to every assignment along with strong communication skills and an impressive work ethic that translates to successful outcomes and satisfied customers. This promotion recognizes Doug's leadership abilities within our department and within our company."

Founded in 1971, St. John Properties, Inc. is one of the nation's largest and most successful privately held commercial real estate firms. The company is distinguished by its commitment to customer service, achievements in green building, and top-rated workplace culture. Throughout St. John Properties' 52-year history, the company has developed more than 23 million square feet of flex/R&D, office, retail, and warehouse space, and has investments in over 3,000 residential units. The company proudly serves more than 2,500 clients in Colorado, Florida, Louisiana, Maryland, Nevada, North Carolina, Pennsylvania, Texas, Virginia, Utah, and Wisconsin. For more information about the company, visit www.sjpi.com.