St. John Properties Initiates Construction on Four Buildings at Arcola Center in Dulles, Virginia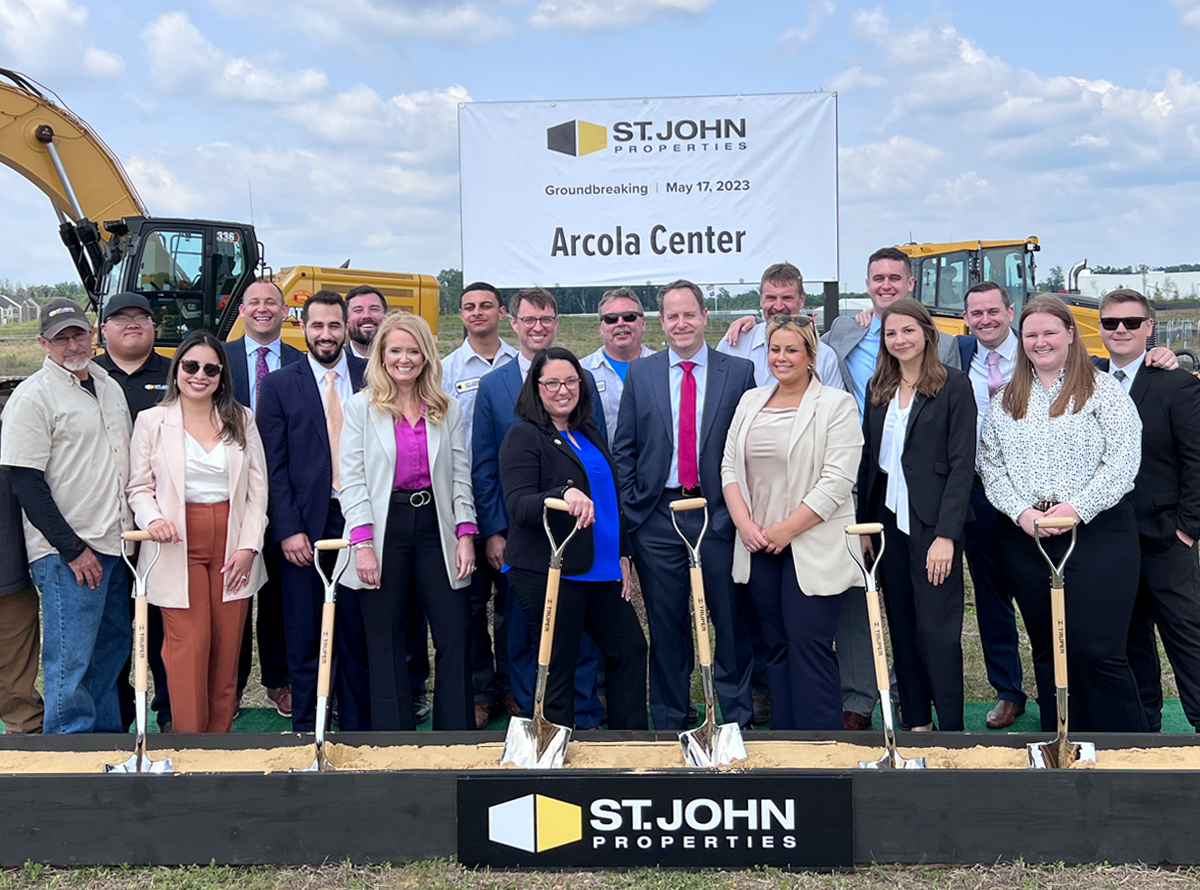 DULLES, VA – Speculative construction activities are underway on Phase I of Arcola Center, a 34-acre business community located at the intersection of Loudoun County Parkway and Dulles West Boulevard in Dulles, Virginia. St. John Properties, Inc., a full-service commercial real estate firm, recently broke ground on four buildings, comprising 100,000 square feet of flex/R&D space – representing the first phase of the development plan. Last January The Loudoun County Board of Supervisors granted final approval to St. John Properties for a zoning change of Arcola Center to reflect existing and expected market demand for flex/office product. St. John Properties expects to develop 10 flex/R&D/office buildings in total, comprising approximately 450,000 square feet. Prior to approval by the Board of Supervisors, the project received unanimous approval from the Loudoun County Planning Commission.

"We have been active in Loudoun County for more than two decades and have delivered more than 20 buildings which serve the commercial real estate needs of more than 150 companies," explained Matt Holbrook, Regional Partner, Virginia and Central Maryland for St. John Properties. "This area does not have enough of the flex/R&D product, which we are developing now, to support the local companies that need this type of building to operate and grow their business. We are doing our part to help grow the regional economy."

Each of the four buildings will range from 22,240 to 45,120 square feet of space and feature free parking and flexible suite sizes to support the real estate needs of professional services, tech firms, light manufacturing, retail-type uses, logistics companies, and a variety of other end-users. The single-story buildings will be constructed with 16-18' clear minimum ceiling heights. In addition, the buildings have been designed to earn LEED certification from the U.S. Green Building Council (USGBC). Buildings receive this designation based on the use of sustainable and locally-sourced building materials and the implementation of construction practices designed to conserve energy and resources while creating an eco-friendly environment.

"St. John Properties could choose to develop real estate product that is more lucrative but, instead, they are committed to doing what is best for Loudoun County and they should be commended for that," said Buddy Rizer, Executive Director of the Loudoun County Department of Economic Development. "Developing this type of product builds balance in our County and provides more jobs than you can ever imagine."

"Loudoun County has more than three million square feet of flex and warehouse space, with a vacancy rate of under one percent," added Ashburn District Supervisor Mike Turner. "This flex/R&D product is among the main pillars of economic activity in Loudoun County and it is gratifying to see Arcola Center moving forward."

"With the struggles of retail development over the past decade, from the rise of ecommerce to the fallout of bricks and mortar retail from the pandemic, the highest and best use for this property isn't pure retail, but rather a business park with a mix of uses. This business park will be a long-term job generator and a home to businesses both small and large. It will add to and diversify the tax base of Loudoun, while contributing significantly to the economic health of the region. More locally, this project will bring amenities, services and new vitality to the area," Holbrook added.

Arcola Center is located adjacent to the Dulles Landing retail development and the future Shops at Arcola Center, it is also within close proximity to South Riding Market Square, Avonlea Town Center and Brambleton Town Center. Arcola Center is approximately five miles from the Dulles Toll Road (VA Route 267) and Dulles International Airport, 11 miles from Leesburg, 16 miles from Tysons Corner and 30 miles from downtown Washington, D.C.

Founded in 1971, St. John Properties, Inc. is one of the nation's largest and most successful privately held commercial real estate firms. The company is distinguished by its commitment to customer service, achievements in green building, and top-rated workplace culture. Throughout St. John Properties' 52-year history, the company has developed more than 23 million square feet of flex/R&D, office, retail, warehouse space and has investments in over 3,000 residential units. The company proudly serves more than 2,500 clients in Colorado, Florida, Louisiana, Maryland, Nevada, North Carolina, Pennsylvania, Texas, Virginia, Utah, and Wisconsin. For more information about the company, visit www.sjpi.com.