Orthopaedic Associates of Central Maryland to Open New Full-Service Facility at Maple Lawn
Part of The Centers for Advanced Orthopaedics practice group, new location at 11810 West Market Place will offer full range of muscle and skeletal care for the entire body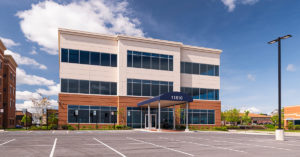 BALTIMORE, MD (August 11, 2020) – Orthopaedic Associates of Central Maryland has chosen Maple Lawn as the site for a new full-service practice group specializing in a full range of muscle and skeletal care, including physical therapy services. The group, which is part of The Centers for Advanced Orthopaedics, has signed a lease with St. John Properties, Inc. for 8,300 square feet of space at 11810 West Market Place, a medical office building situated in the mixed-use community of Maple Lawn in Fulton, Maryland. Sean Doordan and Claire Cobert of St. John Properties, as well as Rob Freedman with JLL represented the landlord, while George Santos and Ryan Miller of Savills represented the tenant in this transaction.
Orthopaedic Associates of Central Maryland offers a full range of muscle and skeletal care for the entire body including physicians that specialize in orthopaedic care for the hand, wrist, shoulder, elbow, hip, spine, knee and foot. The practice group, which includes surgeons and professionals that provide regenerative, electrodiagnostic, pain management and physical therapy services, currently operates full-service offices in Columbia, Catonsville and Eldersburg, as well as separate physical therapy-only sites in Ellicott City and Jessup. The Maple Lawn office will be staffed by approximately 20 professionals when it opens in November. Chesapeake Medical Imaging will also offer MRI services from the new location.
"We targeted the Maple Lawn business community for our latest expansion based on the immediate availability of space in a professional medical office environment, and to offer another convenient site for our current and future patients," explained Steve Maddock, CEO of Orthopaedic Associates of Central Maryland. "Many patients in our practice group currently reside in the Fulton area, so this location is easily accessible and the site provides new opportunities in Montgomery County and points south toward Washington, D.C. Convenient access from several major highways and free parking were significant factors in our decision to lease space here."
11810 West Market Place is a three-story, 29,700 square foot Class "A" office building designed to specifically address the needs of medical and healthcare providers. It features 10-foot clear ceiling heights, 9,500 square foot floorplates and automatic doors to facilitate ease of entry.  The building earned LEED Gold certification from the U.S. Green Building Council for its environmentally-friendly design, which provides a healthy, highly efficient environment for users.
Maple Lawn is being developed by Master Developer Greenebaum Enterprises along with St. John Properties and is located at the intersection of MD Route 29 and MD Route 216 in Fulton, Maryland. The business community is located approximately three miles from Interstate 95 and the Inter-County Connector, 20 miles from Baltimore-Washington International Airport, 22 miles from Baltimore and 28 miles from Washington, D.C.
"Orthopaedic Associates of Central Maryland is a high-volume medical practice group with a strong and recognizable brand in Central Maryland based on its legacy of successful care using state-of-the-art equipment and techniques," stated Sean Doordan, Senior Vice President, Leasing & Acquisitions for St. John Properties. "This group represents the ideal use for this medical office building designed with a convenient exterior patient drop-off area, natural lighting emanating from large window bands, upgraded power systems to support higher energy requirements and large, open floorplates to support a multidiscipline medical group."
Nearly 23,000 people, encompassing more than 7,600 households reside within a three-mile radius of Maple Lawn with an average household income exceeding $139,000. The daytime population is more than 31,000.
Maple Lawn is a mixed-use community that currently contains more than one million square feet of commercial office and Flex/R&D space, as well as medical buildings and retail uses in a "Main Street-style" environment. Companies that maintain operations in Maple Lawn include Cisco, DataTribe, NewDay USA, MagView, Mosaic Technologies and StratWealth. The retail component includes merchants such as Harris Teeter, Looney's Pub, Lib's Grill, Hudson Coastal, Ranazul, Ananda, Sidamo Coffee & Tea a with the newest addition, Galliano Italian Restaurant & Wine Bar opening within 8110 Maple Lawn Boulevard last month. More than 180,000 square feet of retail space and 1,300 housing units are planned for the development.
St. John Properties, Inc., founded in 1971, owns and has developed more than 20 million square feet of Flex/R&D, Office, Retail and Warehouse space in Maryland, Colorado, Louisiana, Nevada, Pennsylvania, Virginia, Utah and Wisconsin. The company was named "2018 Developer of the Year" for the Nation by NAIOP, the Commercial Real Estate Development Association.  For more information about the company, visit sjp.mu9b0uf9-liquidwebsites.com.