Mt. Pleasant Commerce Center Attracts Three New Companies
The U.S. General Services Administration, Twin Disc and Wisconsin Early Autism Project will cumulatively bring approximately 120 employees to 13200 Globe Drive in Mt. Pleasant, WI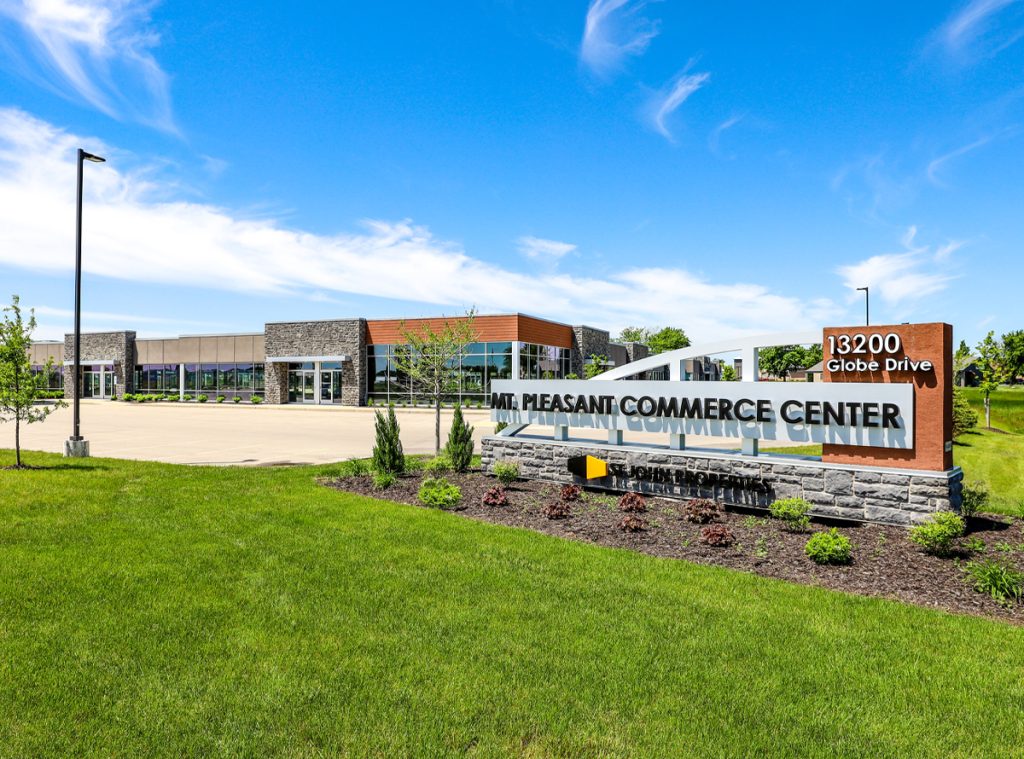 Waukesha, WI – St. John Properties, Inc., a full-service commercial real estate development and management company, has signed new leases with three employers totaling more than 30,000 square feet of commercial office space at Mt. Pleasant Commerce Center in Mt. Pleasant, Wisconsin. Upon their occupancy at 13200 Globe Drive, which encompasses two single-story buildings comprising just over 100,000 square feet of office and retail space, the groups will cumulatively bring approximately 120 employees to the 18-acre mixed-use business community. Since opening its Wisconsin regional office in 1987, St. John Properties has developed more than 1.7 million square feet of space across 16 projects in the greater Madison and Milwaukee metropolitan areas. Greg Fax, Regional Partner for St. John Properties represented the landlord in all three transactions.

The U.S. General Services Administration (GSA) will relocate approximately 25 to 30 employees from 4020 Durand Avenue in Racine to 10,150 square feet of space at 13200 Global Drive, Building 200 by year-end. "A number of elements factored into our decision to move to Mt. Pleasant Commerce Center, including St. John Properties' ability, along with the work of their architect and general contractor, to satisfy our occupancy schedule," said Dave Rauen, Lease Contracting Officer for GSA. "The building also met GSA's Energy Star requirement."

Power transmission equipment manufacturer Twin Disc Inc., based in Racine, signed a lease for 15,482 square feet of space and will relocate the company's engineering division and approximately 45 employees to Mt. Pleasant Commerce Center by year-end. "We are excited to announce the signing of the lease for our state-of-the-art engineering center," stated Dean J. Bratel, Vice President – Corporate Engineering for Twin Disc. "It was a pleasure to work with St. John Properties to secure the new facility offering a prime location for our talented engineering team." The company will occupy Building 100.

Wisconsin Early Autism Project (WEAP) and Total Spectrum provide applied behavior analysis (ABA) therapy to children diagnosed with autism spectrum disorder (ASD). The company signed a lease with St. John Properties for 5,536 square feet of space for its second location with St. John Properties, fifth location in the greater Milwaukee area, and 11th in Wisconsin. The group will occupy Building 200 starting in October. WEAP offers individualized one-on-one therapy for children with autism up to age 6 to work on communication, social skills, and activities of daily living. Services are offered in a variety of learning-rich treatment environments from center-based to home and community settings. They also provide diagnostic services for families in need of an assessment for autism and/or other developmental delays. Approximately 30-40 employees, ranging from behavior technicians to board certified behavior analysts will work at the Mt. Pleasant Commerce Center facility.

"The flexibility of the building and our need for a large gross motor skills room, in addition to smaller spaces around the perimeter, is what attracted our attention initially," stated WEAP's Clinical Director for the Milwaukee Region Linda Klotz. "When selecting a location for a new facility, we strive to have immediate proximity to major highways to provide easy access and convenience to our families. Mt. Pleasant Commerce Center achieves that goal with its proximity to Interstate 94 and Highway 20. As the longest-tenured provider of ABA therapy in the Wisconsin area, WEAP, along with Total Spectrum are extremely familiar with the regional business environment and carefully vet all properties before signing a lease."

Mt. Pleasant Commerce Center, located in Racine County, includes more than 202,000 square feet of single-story office and flex/R&D space. 13200 Globe Drive features 12-foot clear ceiling heights, direct-entry spaces, and free, on-site parking. The business community is less than one mile west of I-94, 18 minutes from Milwaukee's Mitchel International Airport and one-hour from Chicago's O'Hare International Airport.

"The diversity of these uses – ranging from professional services to engineering to healthcare – demonstrate the extreme flexibility of our buildings and ability to satisfy a wide range of real estate needs," stated Greg Fax. "Mt. Pleasant Commerce Center continues to attract a wide range of businesses and is especially attractive to growing organizations seeking a suburban office presence and strategic access to major highways and metropolitan areas."

Representative projects developed by St. John Properties in Wisconsin include Mt. Pleasant Commerce Center, a more than 200,000 square foot mixed-use business community in Mt. Pleasant; Hoepker Corporate Center, a nearly 140,000 square business community in Madison; and Waunakee Business Center, a nearly 160,000 square foot mixed-use business community in Waunakee. The company owns and manages 16 projects in Wisconsin and has constructed over 80,000 square feet of space this year.

Founded in 1971, St. John Properties, Inc. is one of the nation's largest and most successful privately held commercial real estate firms. The company is distinguished by its commitment to customer service, achievements in green building, and top-rated workplace culture. Throughout St. John Properties' 52-year history, the company has developed more than 23 million square feet of flex/R&D, office, retail, warehouse space and has investments in over 3,000 residential units. The company proudly serves more than 2,500 clients in Colorado, Florida, Louisiana, Maryland, Nevada, North Carolina, Pennsylvania, Texas, Virginia, Utah, and Wisconsin. For more information about the company, visit www.sjpi.com.