Let's Grow Flower Shop Plans Sept. 24 Grand Opening at Magothy Beach Plaza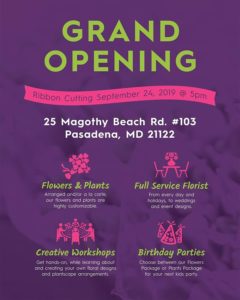 BALTIMORE, MD (September 23, 2019) – Let's Grow, billed as a family-friendly and interactive flower shop, has scheduled its grand opening for Tuesday, September 24 at noon, with a ribbon-cutting ceremony occurring at 5 pm.  The boutique is located at 25 Magothy Beach Road, Suite 103, situated within the Magothy Beach Plaza in Pasadena, Maryland. The 28,675 square foot neighborhood shopping center in Anne Arundel County was developed and is managed by St. John Properties, Inc.
According to owner Meredith Jiranek, Let's Grow provides "do it yourself" opportunities for consumers to create one-of-a-kind and customized flower arrangements, while also providing premade flower and plant products. The shop also specializes in creative workshops that provide hands-on learning about flower arrangements and plantscapes, kids birthday parties and customized arrangements suitable for weddings and special events.
"We believe strongly in educating young people about the flower arrangement industry, so many of our special event activities will be geared towards kids," explained Meredith Jiranek. "Engaging a young person is the surest way to interest an individual for life, and we believe this craft inspires creativity and teamwork. It is also among the reasons we selected Magothy Beach Plaza based on its proximity to The Goddard School. I live near the shopping center and visit it frequently, and have always found it busy with customers."
Existing retailers at Magothy Beach Plaza include Pivot Physical Therapy, Mutiny Pirate Bar & Grille, Ledo's Pizza, Icon Beauty Lounge and Olive & Sesame Restaurant. For additional information about the event, call 410.255.0903.