Soleil Pharmacy Holds Ribbon-cutting Ceremony at Quarterfield Center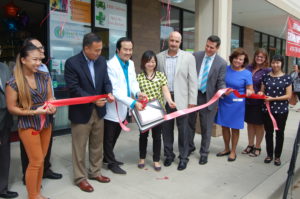 Locally-owned and operated pharmacy, with focus on patient advocacy that helps achieve better health and outcomes, now open at 801 Landmark Drive
BALTIMORE (September 20, 2018) – Soleil Pharmacy, a locally-operated and full-service pharmacy owned by Trieu Bao and Thuy Cao, have scheduled a ribbon-cutting ceremony for their new location at 801 Landmark Drive in the Glen Burnie section of Anne Arundel County. The event will be held on Thursday, September 20 from 11 am to 2 pm at Quarterfield Center, a 180,000 square foot mixed-use community located at the intersection of MD Route 174 (Quarterfield Road) and Interstate 97. The center was developed and is managed by St. John Properties, Inc.
Soleil Pharmacy is differentiated by its focus on patient advocacy and personal attention that leads to better health and more effective outcomes. The owners also fluently speak several languages including Vietnamese, French and English and are able to communicate effectively with a diverse group of people. "Our number one priority is to make a positive difference in the health and lives of our customers, and this begins by acting as a patient advocate to guide them into better decision-making," Pharmacist and Co-Owner Trieu Bao explained. "Having a personal relationship is more important than people realize. We believe consumers need customized education about prescriptions and the health care process and this is facilitated when they have a personal relationship with their pharmacist."
The grand opening and ribbon-cutting ceremony included the Anne Arundel Chamber of Commerce; a blood drive and free blood pressure screening by the Red Cross; and the Anne Arundel Fire Department operating its Dispose My Meds Program which educates consumers about the proper disposal of expired and unused over-the-counter and prescribed medications. The event also featured food, gifts and prizes.
"The mission of Soleil Pharmacy is to help our patients save money on prescriptions, demonstrate a convenient way to order and receive medications and explain the range of additional services we provide that contributes to optimal health and patient outcomes," Bao added. "Our goal is to know each of our patients on a first-name basis."
Soleil Pharmacy offers free delivery and pick-up of prescriptions, free monthly synchronization of multiple prescriptions, diabetic consulting, medication therapy management, immunization and pet medications. The pharmacy is open Monday through Friday from 8:30 am to 6:30 pm and Saturday from 9:00 am to 2:00 pm. For more information visit www.soleilpharmacy.comor call 443.281.9157.
St. John Properties, Inc., founded in 1971, owns and has developed more than 18.5 million square feet of Flex/R&D, Office, Retail and Warehouse space in Maryland, Colorado, Louisiana, Nevada, Pennsylvania, Virginia, Utah and Wisconsin. The company was named "2018 Developer of the Year" by NAIOP, the Commercial Real Estate Development Association. For more information about the company visit sjp.mu9b0uf9-liquidwebsites.com