Frederick-Based INPRO Technologies Develops Technology to Disinfect N95 Masks
INPRO Technologies considering corporate pivot to mass manufacture DECON95 equipment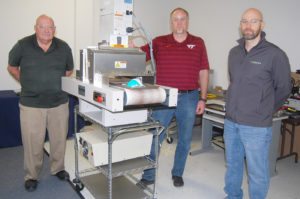 BALTIMORE, MD (April 14, 2020) – INPRO Technologies, Inc. has only been developing DECON95 since the beginning of April, but the Frederick, Maryland-based company has initiated discussions with the United States Food and Drug Administration (FDA) to gain "emergency use approval" (EUA) for the new technology that disinfects and decontaminates N95 respirator masks. According to the company's President Eric Couch, the five-person company has recently hired temporary employees to help develop the prototype and, if successful with the FDA, plans to pivot and fast-track the company to mass manufacture the equipment serving front-line healthcare professionals throughout the country. N95 masks are among the key pieces of Personal Protective Equipment (PPE) used in the COVID-19 fight across the globe. INPRO Technologies is located on Pegasus Court in the Westview Business Park, a business community developed and managed by St. John Properties, Inc.
"Since the COVID-19 pandemic began, we have been looking for a way to leverage the shortwave ultraviolet light technology that we currently use in our products serving the equipment manufacturing, printing, packaging and materials industries," Couch explained. "A fact-finding discussion among members of the medical, scientific and manufacturing communities ignited the idea to develop the DECON95 equipment in less than one week. Our goal is to produce up to 10 of the conveyor systems in the near future and place them in area healthcare facilities for on-site testing and analysis. We have garnered the support of academia in this process and intend to quickly scale up production."
According to Couch, due to heavy demand and usage of the N95 masks nationwide, some data suggests that current production will fall short of demand by more than 300 million pieces over the next 100 days. "Proper cleaning and disinfecting is not an option in many facilities and, in certain instances, healthcare professionals store previously-used masks in bags overnight, which is unsafe. Our company is presenting a viable solution to the problem and we estimate that each DECON95 machine has the capacity to disinfect more than 1,000 masks per hour and up to 25,000 masks per day."
Founded by Couch's father Bob in 1987, INPRO Technologies develops and manufactures equipment utilizing ultraviolet (UV) light technology that is used for industrial curing. They also specialize in adhesion control, static control and web cleaning all of which significantly improves the manufacturing processes.
"We understand UV technology intimately and believe DECON95 provides a viable and cost-efficient solution to the shortage of personal protective equipment," Couch added. "This microwave-powered equipment can be operated continuously and provides a uniform distribution of energy in a highly-targeted area to disinfect N95 masks and allow for safer reuse."
"INPRO Technologies has been a long-term client, is highly-respected and have successfully built a strong stable of customers in various industries," explained Matt Holbrook, Regional Partner, Virginia and Central Maryland for St. John Properties. "We are extremely impressed with their entrepreneurial efforts and resourcefulness to take existing technology and redirect it toward this important fight. St. John Properties intends to support their team in every way possible to help achieve their goals with DECON95."
St. John Properties, Inc., founded in 1971, owns and has developed more than 20 million square feet of Flex/R&D, Office, Retail and Warehouse space in Maryland, Colorado, Louisiana, Nevada, Pennsylvania, Virginia, Utah and Wisconsin. The company was named "2018 Developer of the Year" for the Nation by NAIOP, the Commercial Real Estate Development Association. For more information about the company, visit sjp.mu9b0uf9-liquidwebsites.com.