Crystal Halstead Promoted to Assistant Vice President, Property Management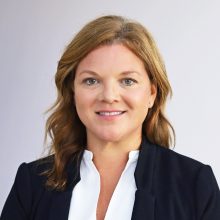 BALTIMORE, MD – St. John Properties, Inc., a Baltimore-based commercial real estate development and management company with a national portfolio valued at more than $5 billion, has announced the promotion of Crystal Halstead to Assistant Vice President, Property Management. Formerly Director of Property Management, Halstead joined the company in 2004.

Halstead will continue to oversee all functions of St. John Properties' more than 50-person property management department in the greater Baltimore metropolitan region. The property management team's responsibilities include proactively resolving tenant requests and maintenance inquiries in a timely manner to maintain consistent operations, manage tenant accounts, negotiate, and supervise service contracts, prepare annual expense reconciliations, and manage client relations activities. She will also continue to progress the company's mission to provide best-in-class environments across the company's portfolio of Class 'A' commercial office, flex/R&D and retail space.

Halstead earned an Associate of Arts degree in Early Childhood Education from Frederick Community College and a Bachelor of Science degree in Business from the University of Phoenix.

"Our entire company takes enormous pride in the responsiveness of our property management team, and we believe that our passion for excellence and attention to detail separates us from our competition," stated Bill McFaul, Executive Vice President, Property Management for St. John Properties. "Providing best-in-class and timely services requires a highly-talented and committed team, Crystal's outstanding communication skills help us live up to our commitment to customer service. This promotion demonstrates the high regard we have for Crystal's skillset and the value we place on her contributions."

Founded in 1971, St. John Properties, Inc. is one of the nation's largest and most successful privately held commercial real estate firms. The company is distinguished by its commitment to customer service, achievements in green building, and top-rated workplace culture. Throughout St. John Properties' 52-year history, the company has developed more than 23 million square feet of flex/R&D, office, retail, and warehouse space, and has investments in over 3,000 residential units. The company proudly serves more than 2,500 clients in Colorado, Florida, Louisiana, Maryland, Nevada, North Carolina, Pennsylvania, Texas, Virginia, Utah, and Wisconsin. For more information about the company, visit www.sjpi.com.