Artistic Movement Academy of Dance Opens at Cromwell Business Park in Glen Burnie
Program offering ballet, jazz, lyrical, tap and acrobatic classes to students beginning at 18 months of age, signs 6,135 square foot lease with St. John Properties at 890 Airport Park Road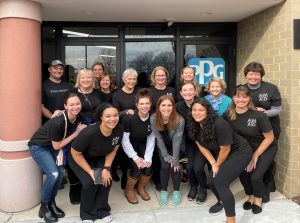 BALTIMORE, MD – Artistic Movement Academy of Dance, a program offering ballet, jazz, lyrical, tap and acrobatic instruction and classes for students beginning at 18 months of age, has signed a lease with St. John Properties, Inc. for 6,135 square feet of space at Cromwell Business Park, a 165-acre business community located in the Glen Burnie section of Anne Arundel County. The group relocated from Burwood Village Center to 890 Airport Park Road, and hosted a grand opening celebration for their new space on January 8.. Lacey Johannson of St. John Properties represented the landlord and Matt Haas and Ana Henrich of JLL represented the client in this transaction.

Ashley Canterna Hardy, together with her husband Josh, assumed ownership of the dance studio earlier this year. Hardy won the top medal at the International Ballet Competition in Bulgaria, was named "Miss Dance of America" in 2002, and was recognized as the Outstanding Choreographer at the Youth America Grand Prix International Ballet Competition. The program offers both a preschool and single class track, with special advanced classes, and instructors that have performed on Broadway. Classes geared towards adults are also available.

"Dance studios are similar to other sports-related programs as they teach young people the value of time management, working together to achieve a common goal, and the importance of dedication and commitment," explained Ashley Canterna Hardy. "It doesn't take long before our students and their families bond together and form deep relationships with each other. They also learn advanced dance steps as they grow and mature along the way. We believe in the importance of cross training, dance movements help with other sports and just about any team activity by emphasizing balance and coordination. A young person never knows where they will find their passion, and that includes opportunities for young men which are truly needed in our program. We have a few young men now and the interest among that group is definitely growing."

"It was important for us to stay in the immediate area because Josh and I are both from Linthicum, and we currently have a nice network of families and students that are familiar with us," added Hardy. "This expanded space at Cromwell Business Park provides us with the additional space we need to execute our strategy for additional classes, as well as providing administrative offices and storage," explained Ashley Hardy. "The close proximity to Interstate 97 makes our space easy to get to, and parents have their choice of many different restaurants nearby to visit while their children are partaking in classes. Our goal is to operate a studio that is family-friendly and provides an environment where our students feel safe and nurtured."

890 Airport Park Road is a single-story building containing 41,938 square feet of flex/R&D space. The building is equipped with 16-foot ceiling heights, rear dock loading and free surface parking. Situated off Interstate 97 at Dorsey Road, Cromwell Business Park currently consists of 22 buildings comprising nearly one million square feet of flex/R&D, commercial office, warehouse and retail space. The park is less than two miles from MD Route 100 and BWI Airport, four miles from MD Route 295, ten miles from Baltimore, and 33 miles from Washington, D.C.

On-site amenities include Starbucks, 7-Eleven, Royal Farms, Subway, Los Portales and Aviation Deli & Grill. Numerous sit-down and fast-casual restaurants are located within close proximity. In addition, St. John Properties plans to construct two additional retail buildings totaling over 20,000 square feet of space within Cromwell Business Park.

"Cromwell Business Park continues to draw tenants from a range of different industries due to its outstanding location and access to major highways, as well as BWI Airport," stated Matt Lenihan, Senior Vice President, Leasing for St. John Properties.

Founded in 1971, St. John Properties, Inc. is one of the nation's largest and most successful privately held commercial real estate firms. The company is distinguished by its commitment to customer service, achievements in green building, and top-rated workplace culture. Throughout St. John Properties' 52-year history, the company has developed more than 23 million square feet of flex/R&D, office, retail, warehouse space and has investments in over 3,000 residential units. The company proudly serves more than 2,500 clients in Colorado, Louisiana, Maryland, Nevada, North Carolina, Pennsylvania, Texas, Virginia, Utah, and Wisconsin. For more information about the company, visit www.sjpi.com.