The Daily Record's 2019 Excellence in Construction & Real Estate Awards
Projects of the Year
St. John Properties, Greenleigh at Crossroads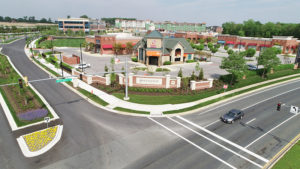 Headquartered in Baltimore, St. John Properties, Inc. is one of the mid-Atlantic region's busiest privately held commercial real estate firms.
The firm has built and owns 20 million square feet of office space, flex/research and development, retail, warehouse and residential space in Maryland and across the country.
It's also a leader in sustainable building as a member of the United States Green Building Council and has 66 LEED gold, silver and certified buildings across their portfolio, totaling almost 4 million square feet of space.
St. John Properties is behind Baltimore County's premier mixed-use community, Greenleigh at Crossroads, which grew from January 2018 to June 2019 by almost 200,000 square feet with the delivery of a 100,000 square-foot four-story Class A office buildings, two single-story office buildings and two retail buildings.
During the same time frame, St. John Properties and Greenebaum Enterprises built a 104,000 square foot, LEED Gold-certified, four-story Class A office building in the master-planned community of Maple Lawn in Howard County. A 29,000 square-foot, three-story Class A medical office building was also completed and is pending LEED certification.
On the University of Maryland Discovery District campus in greater College Park, St. John Properties and the University of Maryland delivered two flex/research & development buildings totaling 109,000 square feet.
In 2018, the company's work earned it high praise from the Commercial Real Estate Associations, which selected St. John Properties as Developer of the Year, the association's highest honor.
---
Rising Stars
Sean Doordan, St. John Properties Inc.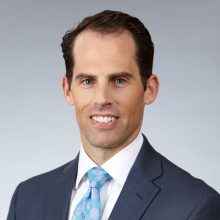 Sean Doordan first became interested in commercial real estate when he was working in the hospital administration field, where he was exposed to master facilities planning and the relocation of health systems.
That interest led to a meeting with Ed St. John, who offered Doordan an opportunity to join St. John Properties as a partner in training, a four-year path that exposed him to all facets of the business.
Doordan served in various capacities at St. John after completing the program, and earlier this year he was named senior vice president of leasing and acquisitions.
"I have been fortunate to truly enjoy the work that I have done in my professional career," Doordan said. "Whether it be in the early stages of my professional career in health care or now in commercial real estate, I continue to learn, establish great relationships and take part in helping to lead the company for years to come. One of my proudest achievements is how I have been able to continue to grow with St. John Properties as the company has grown."
Doordan said he has adopted Ed St. John's belief in being surrounded by the best and brightest in the industry, an industry he says is all about connecting with people.
"Real estate is a relationship business, and I have been very fortunate to have established many relationships and connections throughout the area and industry," Doordan said. "These relationships have afforded me the opportunity to grow both personally and professionally. I value trust and integrity, and I hope those that have worked with me know that I am true to my word."