Greenleigh at Crossroads Named 2019 Community of the Year by MBIA's Land Development Council
Land Development Council Awards
This prestigious awards program offers recognition of projects and professionals who demonstrate excellence in residential and mixed-use land development. The program is sponsored by MBIA's Land Development Council and awards are presented at MBIA's annual Awards of Excellence.
Awards of excellence are presented to a community of the year as well as projects deserving of awards of excellence. These awards are widely recognized as the area's most prestigious land development awards and are used to identify and promote best practices and professionals. ​​
Projects are judged on the following criteria:
Excellence in land use practices
Sensitivity to the surrounding community
Thoughtful design and outstanding execution
Environmental stewardship and sustainability
Creative solutions to unique development challenges
Overall acceptance of the finished project
2019 Community of the Year: Greenleigh at Crossroads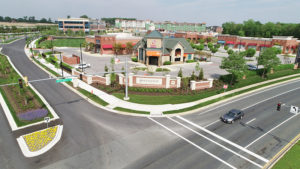 Company: Elm Street Development
Project: Greenleigh at Crossroads
Developer: Elm Street Development; Somerset Construction; and St. John Properties
Builder(s): NV Homes; Ryan Homes, and Williamsburg Homes
Consultant/Engineer: Design Collective; Morris & Ritchie Associates; Little & Associates; and Hillis
Carnes Engineering Associates
Lender: Wells Fargo
Greenleigh at Crossroads is the residential piece of the live/work/play Baltimore Crossroad development in Eastern Baltimore County. Originally planned as commercial, this site was reimagined as an ambitious residential community of 1,000 homes which elevated the housing standards for the area. Neo-traditional design, sophisticated architecture, and bold amenities all contribute to the transformative effect this community has had on Baltimore Crossroads and the entire surrounding community.