St. John Properties Ranked No. 27 in Baltimore Business Journal's 2019 Fastest-Growing Companies List
Baltimore Business Journal  |  Jessica Iannetta
St. John Properties was ranked 27 on the Baltimore Business Jornal's 2019 fastest-growing companies in Greater Baltimore list, with an average revenue growth of 18.32% in the three-year span from 2016 to 2018.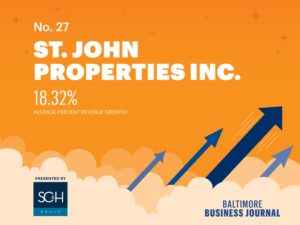 Baltimore may be known as an "eds and meds" city but this year's Fast 50 List is proof that companies of all kinds have found the region is a great place to grow.
The fastest-growing private companies on this year's List come from every corner of the business landscape, from technology and marketing to real estate and hospitality. But regardless of their industry, every company on the List has found a way to grow consistently over the last three years.
To create this year's List, we ranked companies by highest average percentage change in revenue in the three-year span from 2016 to 2018. To be eligible, companies had to have at least $100,000 of revenue in 2016 and at least $1 million in 2018.
We also partnered with accounting and consulting firm SC&H Group Inc. to verify the revenue numbers at each company and to make sure the results are accurate.
The rankings were unveiled during a dinner event on Oct. 17 honoring this year's List-makers.