St. John Properties Moving Forward With Over 1,000 Residences At Prince George's County Site
Bisnow, Washington, DC  |  Jon Banister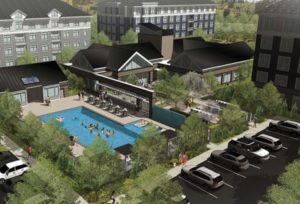 St. John Properties is moving forward with three residential projects that will add over 1,000 units to a 466-acre Prince George's County site.
The Prince George's County Planning Board last week approved SJP's proposal for a 435-unit multifamily project at its Melford Town Center development in Bowie.
Melford Town Center, a 466-acre site near the interchange of U.S. 50 and Crain Highway, already consists of more than 1M SF of office and flex-industrial space. A 140-unit senior housing project, The Tribute at Melford Town Center, delivered in November. SJP plans to break ground this year on the first two apartment phases.
In addition to the 435-unit phase approved last week, branded as Mansions at Melford Town Center, the developer is in the final phase of entitlements for a 388-unit building branded as The Aspen. St. John Properties Regional Partner Andrew Roud tells Bisnow it plans to break ground on both apartment phases by the end of the summer.
The developer is also in the preliminary entitlement stage for a 293-unit townhouse component. The development is ultimately planned to include more than 1,900 residential units, including the senior housing and townhouses, and about 96K SF of retail.
The retail component is also expected to begin construction by the end of the summer, Roud said. He said SJP is looking to bring in a small-format grocer, restaurants and neighborhood-oriented retailers.
"We've broken it into quadrants, and the furthest walk from residential to retail won't take you more than 10 minutes," Roud said. "The whole point is to tie in the network of trails and the lake and make it walkable with bike lanes."
Melford Town Center is roughly 20 miles from D.C., 15 miles from Annapolis and 30 miles from Baltimore. Roud said this location allows it to capture demand for renters that would commute to any of the three cities, making it an appealing site for apartment development.
"Bowie is one of the strongest markets within Prince George's County, a county with roughly a million people with high incomes," Roud said. "It's a great place to live."