St. John Properties LEEDS in Green Building
Published in the August 2023 edition of I95 Business | Written by Kristi S. Halford | Photography by Maximillian Franz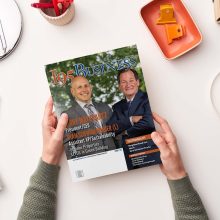 The physical impact of climate change on our world is clearly visible in the form of floods, wildfires, rising sea levels, and other natural disasters. Addressing climate change and the effects it has on the planet can't be left to scientists, environmentalists and politicians. To have significant impact, companies across most industries are increasingly realizing they play a part, and through ESG commitments and environmental initiatives, they are making changes to support a greener, cleaner environment.

One area of focus with potential for significant impact is the built environment, which includes the design, materials manufacturing, construction, usage, and demolition of all residential and commercial buildings and infrastructure. Here in Maryland, St. John Properties, Inc. is a leader in green building.

Last October, St. John Properties earned LEED (Leadership in Energy and Environmental Design) certification from the U.S. Green Building Council (USGBC) for the 100th building in its national portfolio. The building to achieve this 100th certification is a single-story building in Melford Town Center comprising 34,560 square feet of flex/R&D space.

In a press release from St. John Properties, Ryan Snow, regional director, U.S. Market Transformation & Development for USGBC, states, "St. John Properties is a leading green developer in one of the top green building markets in the world. They have certified more commercial LEED projects in Maryland, Virginia, and Washington, D.C. than any other organization in the last five years. The scale of their impact is remarkable. Their leadership is a signal to the market of what is possible, practical, and profitable as a business strategy."

Executives at St. John Properties share that since initiating their sustainability program in 2009, the company has been ranked within the top five LEED developers nationwide by the USGBC.

Larry Maykrantz, president & CEO of St. John Properties, states, "Our investment in green building started with one employee in 2009 and has now grown into a department of professionals who search for ways to enhance the workplace experience within our buildings. Our concentration has always been on increasing the overall efficiency of our buildings to, in turn, decrease overall operating costs for our tenants. Last year alone we had a savings of over $10.2 million through energy reductions, incentives, lighting updates and other programs."

According to Ryan Schwabenbauer, assistant vice president, Sustainability for St. John Properties, the company employs a multi-tiered approach to energy conservation with the specification of efficient lighting fixtures, high-grade insulation, white reflective roofs, top-of-the-line window systems, and the installation of high-performance HVAC systems.

He shares, "The way we've been able to scale our LEED certification processes has been what has separated us from other real estate developers. Green building is a part of our culture. Scalability drives down costs, so we made a deliberate decision to invest in an in-house team focused on the LEED certification process."

Maykrantz adds, "Throughout our 52-year history, St. John Properties has been committed to innovating our buildings' design by researching ways to make them more energy efficient. Over time we have been able to create and implement processes within the development and construction of our new buildings to achieve LEED certifications. Since then, we've been able to successfully scale those methods to become the leader in LEED-certified buildings."

Schwabenbauer states that over time LEED requirements have grown, and will continue to grow stricter, which can make it challenging for some developers to attempt. With their in-house staff, St. John Properties can project new trends and evolve their approach as certification requirements change and intensify. "Through scalability, we have had a lot of success locally. As we grow across the country, we plan to replicate that success," he adds.

Environmental Impact of the Built Environment

The built environment is "directly or indirectly responsible for approximately 40 percent of global CO₂ emissions from fuel combustion and 25 percent of overall greenhouse-gas (GHG) emissions", as reported by McKinsey & Co last year.

LEED, developed by the USGBC in 1993, is a green building certification program which includes a rating system for the design, construction, operation, and maintenance of green buildings, homes, and neighborhoods, to help building owners and operators be environmentally responsible and use resources efficiently. Many U.S. federal, state, and local governments require or reward LEED certification.

USGBC states that "LEED certification provides a framework for healthy, highly efficient, and cost-saving green buildings, which offer environmental, social and governance benefits. LEED certification is a globally recognized symbol of sustainability achievement and leadership."

Today there are more than 105,000 LEED-certificate buildings in nearly 190 countries.

USGBC shares several benefits of LEED certification:
LEED buildings have a higher resale value and lower operational costs than non-LEED buildings.
LEED is an essential strategy for achieving ESG, decarbonization and equity goals.
LEED-certified buildings focus on occupant well-being, offering a healthier and more satisfying indoor space while addressing community and public health.
LEED buildings use less energy and water, utilize renewable energy and fewer resources, create less waste, and preserve land and habitat.
According to USGBC, LEED allows investors to implement management practices that prioritize building efficiency, decrease operational costs and increase asset value. Since 2018, LEED-certified assets have held a 21.4 percent higher average market sales price per square foot over non-LEED buildings, and employers in LEED-certified spaces report higher recruitment and retention rates and increased employee productivity.

And LEED-certified buildings don't just impact the environment. LEED prioritizes physical health and well-being, focusing on strategies like banning smoking and reducing toxic exposure from materials to improve air quality. The EPA states that indoor concentrations of some pollutants have increased in recent decades due to insufficient mechanical ventilation and increased use of synthetic building materials, furnishings, personal care products, pesticides, and household cleaners. Improving indoor air quality can reduce absenteeism and work hours for those affected by asthma, respiratory allergies, depression and stress.

St. John Properties shares that one of its key missions is to develop sustainable buildings constructed with materials that contribute to an eco-friendly environment, while maintaining indoor environments that promote employee wellness and conserve energy and resources.

In 2021, the company began the implementation of its UV Whole Building Air Purification process, which entails a multi-step strategy, including the installation of UV-C light disinfecting systems designed to eliminate airborne pathogens such as fungal spores, bacteria and viruses that can pass through a building's HVAC equipment. The program also involves replacing existing HVAC air filters with higher-efficiency models that capture more airborne particles, and the utilization of longer HVAC runtimes, allowing for more frequent fresh air circulation throughout a building.

Deloitte shares that healthy employees typically have a better quality of life overall with reduced risk of illness, disease, and injury and lower stress levels, while also having more productivity, fewer sick days, and more organizational and community engagement.

Maykrantz states, "Companies are progressively focused on cutting down energy consumption and costs, while also acknowledging the advantages of green buildings on employee health and productivity. The inclusion of natural lighting, amenity and recreational spaces, walking trails, water features, as well as interior and exterior lighting upgrades promote safer and healthier workforce environments. Additionally, our interior design team creates a welcoming and productive workplace experience catered to each individual client."

St. John Properties Commitment to Green Building

Edward St. John, Founder and Chairman of St. John Properties, has stated, "The conservation of energy and natural resources, along with the ongoing need to develop and innovate environmentally friendly buildings, have become a priority in attracting new tenants. We have become the gold standard in formulating and executing a feasible and sustainable plan for green architecture and will continue evolving in the future."

Green building is not only good for the environment, it's good for the economy. Schwabenbauer shares that the evolution of green building requires new skills to be learned to meet new standards leading to new workforce development opportunities. Economically for companies, green building has quantifiable savings.

St. John Properties plans to roll out a scalable solar program for all newly designed buildings that will complement the company's existing suite of green initiatives. It includes installing electric vehicle charging stations or underground conduits at all newly constructed buildings to support the use of energy efficient electric vehicles. According to the International Energy Agency, the number of electric cars, buses, vans and heavy trucks on roads is expected to hit 145 million by 2030.

Schwabenbauer shares, "We have been installing electric vehicle chargers as an amenity in our multi-story buildings for over 10 years. The world is seeing a huge uptick in electric vehicles, so workplaces will have to change. We install conduits in our flex buildings so that as demand rises we can get more charging stations installed quickly."

The company also has a program to upgrade lighting in existing buildings to LED fixtures and uses building materials and asset management practices that conserve natural resources, save energy and reduce operating costs.

Similar to their approach to LEED certification, Schwabenbauer shares that creating a repeatable, scalable solar energy program for all new buildings. "For now, due to legislative regulatory restrictions, we cannot effectively install as much solar as desired, but are optimistic that this will change and allow more effective deployment of renewables in the future. Solar energy will cover all the exterior lights around our new buildings during the night. By the end of this year, we will have completed over 20 solar installations," he states.

Schwabenbauer believes that the company's commitment to green building sets them apart from other developers and positions them to be successful during different market shifts. There is a growing trend around flight-to-quality in which investors, developers and tenants are focused on high-quality spaces that will attract and retain workers. He adds, "We believe overall there is greater demand for green over non-green buildings. Green building drives long-term savings on electricity, making it a better financial play. Employers who rent the spaces we build have to consider the rising employee demand for more green building and commitment to employee wellness. Sustainable building will continue to be a driver to attract good talent."

Maykrantz states, "Our long-term success is predicated on listening to our clients to better understand their needs. Numerous industry sectors, government organizations and corporations have implemented LEED certification or other green building achievements as a prerequisite when searching for new space. Being a long-term holder of commercial real estate, we want to make sure our buildings meet the requirements of tenants today and in the future."

With St. John Properties' continued commitment to green building and expansion of its scalable approach beyond the Maryland-D.C. region, companies and employees will increasingly benefit from a greener, cleaner environment.