St. John Properties finds business 'brisk' in Baltimore County
The Daily Record | Adam Bednar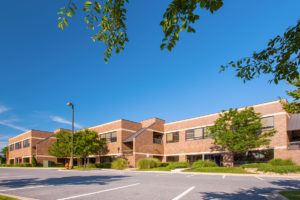 Business is "brisk" across St. John Properties' assets in Baltimore County, and a trio of new leases has added to the firm's recent transactions. The full-service commercial real estate development and investment firm secured three leases totaling 35,000 square feet in Baltimore County. That includes deals with American Pool Enterprises, USA Marble and Granite LLC, and Erickson Living.
"Leasing momentum remained brisk throughout the summer, with our Baltimore County portfolio the beneficiary of significant leasing activity," Richard Williamson, senior vice resident, leasing and marketing for St. John Properties, said in a statement announcing the deals.
American Pool Enterprises is relocating and expanding at 11155 Dolfield Road in Owings Mills. The firm leased 15,000 square feet of office space.
USA Marble and Granite LLC rented 12,000 square feet of flex space at Timonium Business Center, and Erickson Living also signed a deal for 8,100 square feet of office space at the Beltway Corporate Center in Catonsville.
MacKenzie Commercial Real Estate Services' third-quarter report found activity remained strong in the flex and office sectors in Baltimore County heading into the end of the year.
In the area Mackenzie calls the Northern Metro, which includes all Baltimore County submarkets and Harford County, office vacancy was 13.7 percent during the period starting in July and ending at the start of October. That was down from 14 percent vacancy the prior quarter and 14.3 percent vacancy during the same time in 2017.
The three submarkets with the lowest office vacancy were the Interstate 83 corridor with 9 percent vacancy; Towson with 11.5 percent vacancy; and the western portion of Baltimore County, which posted 12.6 percent vacancy. All were decreases in the amount of office space available to rent compared to the same time in 2017.
Unrented space in flex properties in the Baltimore metro area overall also declined from the previous quarter and year over year.
The vacancy rate in that sector in the metro region fell to 6.9 percent. That's down from 8.3 percent during the same time last year and 7.6 percent in the second quarter.
The three submarkets in the region with the lowest flex vacancy were all in Baltimore County. The Interstate 83 corridor posted a 2.1 percent vacancy, Arbutus posted a 4.1 percent vacancy, and Woodlawn reached 4.9 percent vacancy.
Baltimore County-based St. John Properties owns and has developed more than 19 million square feet of assets in Maryland and several other states. The firm's holdings include office, flex/research and development, and retail space.