Marriott SpringHill Suites opens in Greenleigh at Crossroads
The Daily Record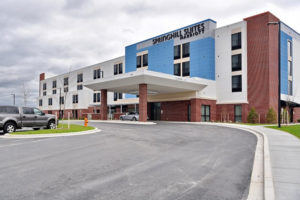 White Marsh Marriott SpringHill Suites, a four-story, 120-room hotel contained within Greenleigh at Crossroads, has opened in the 1000-acre, mixed-use business community in White Marsh.
Middle River Hotel Partners, LLP is the development group and owner of the hotel, which will be managed by USA Management II, Inc.
Located at 6110 Greenleigh Avenue, the brick-and-glass hotel includes an indoor pool; fully equipped business center with a meeting room for 20 people; state-of-the-art fitness center; and a lobby bar.
"Baltimore Crossroads has grown exponentially over the last several years, and the recent real estate elements introduced to Greenleigh at Crossroads are perfectly suited to support the long-term needs of a hotel," said Tom Lee, president of USA Management II, Inc. and a partner with Middle River Hotel Partnership, LLP.
St. John Properties and Somerset Construction Company and Elm Street Development are building Greenleigh at Crossroads. The project consists of 1,000 single-family homes and townhomes; 500 multi-family units; three mid-rise Class A commercial office buildings containing approximately 300,000 square feet of space; 443,000 square feet of single-story office space; 827,000 square feet of flex/R&D space; and 188,000 square feet of retail amenities.
Marriott SpringHill Suites opens in Greenleigh at Crossroads