Hotel at Melford expected to be finished next summer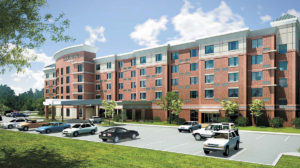 Capital Gazette |  The Bowie Blade-News  |  John McNamara
BOWIE, MD (April 16, 2017) — The first of three Marriott hotels slated to be part of the Melford complex should be completed sometime next summer, officials say.
"That's what we're shooting for," said Ernest L. Murphy, president of the Hospitality Development Company Group that owns the right to build the hotels.
Construction crews have been at work on the first hotel for the last three months and are getting ready to pour the slab for a 144-room Courtyard by Marriott hotel, he said An official ground-breaking ceremony is scheduled for Friday morning.
The five-story hotel, which will be located at 16800 Science Drive, will feature a brick facade, several conference and meeting rooms and a ground-floor restaurant.
Rooms will feature king- and queen-sized beds and are equipped with amenities like big-screen televisions, a refrigerator and coffeemaker. Free Wi-Fi will be available throughout the hotel and the property will also feature a business center, a fitness area and an outdoor pool.
The Hospitality Development Company is a locally-based group that has built and manages several other hotels in the region, including the TownePlace Suites near Bowie Town Center.
The company also maintains rights to develop two additional hotels within Melford, a 125-suite Residence Inn and a 100-suite SpringHill Suites. Murphy said construction on the Residence Inn wouldn't begin for another five years or so. The SpringHill Suites hotel would be the final one of the three hotels to go up, he said.
The Melford site wasn't configured in such a way that it could include one large hotel, so Murphy's group proposed what he called "a hotel park."
"We felt like by having three hotels which are complementary, we can give all the services of a full-service hotel," he said.
The Courtyard by Marriott is designed primarily for business travelers, with meeting and conference rooms. The Residence Inns are designed for a more extended stay because they feature full kitchens. The SpringHill Suites hotels are similar to Residence Inns, but feature smaller kitchens.
The idea is that clients and other visitors to the complex will be able to stay overnight close to where they're conducting business, Murphy said.
"We found that location would be ideal, especially being in Melford," he said.
"This new hotel is an important addition to the mixed-use environment within Melford as the amenity will be a destination for area businesspeople, future residents and visitors to the community, and will serves as a significant economic driver," said Richard Williamson, the senior vice president of marketing and leasing for St. John Properties, in a statement. "The inclusion of conference and meeting facilities, as well as an on-site restaurant, complements the range of services available and furthers Melford's appeal as a self-contained community."
Baltimore-based St. John Properties is developing the overall Melford complex. When completed, Melford is expected to include about 550,000 square feet of office space, 86,000 square feet of retail space and almost 1,800 residential units with apartments and townhomes.
Plans for the overall development have come under fire from some Bowie residents, who have expressed concerns about the additional traffic it would bring to an already crowded Route 3. Current residents are also worried that those who will someday live in Melford will use residential streets like Belair Drive as their route to run errands or go shopping, rather than exiting onto Route 301 or Route 50.
Others have cited environmental concerns about the overall project, given its proximity to the Patuxent River.
http://www.capitalgazette.com/bowie_bladenews/news/ph-ac-bb-melford-hotels-0427-20170426-story.html